The Ketchikan City Council will consider a resolution Thursday in opposition to state legislation related to transportation network companies such as Uber.
The topic came up during the last Council meeting, when a representative of a local taxi company expressed concern about Uber entering the Ketchikan market without local regulations in place for that kind of service.
The state legislation in question is Senate Bill 14 and the related House Bill 132. Both would limit regulation of Uber-style companies to state control, and would not allow municipalities to enact their own rules.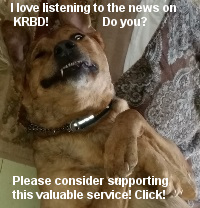 According to a memo from City Manager Karl Amylon, the state legislation could limit the city's ability to levy sales taxes; require vehicle safety standards or background checks for drivers; or require a certain level of insurance.
The Council will consider two versions of a resolution in opposition to the state legislation. The first opposes the lack of local regulatory oversight in the bills; the second opposes allowing such companies to operate anywhere in the state until issues related to local oversight are resolved.
Amylon writes that other municipalities have expressed concern about the two bills, and there likely will be some revisions. The Council could postpone voting on the resolution until early April, to see whether the problems have been resolved through amendments.
Also Thursday, the Council will consider whether to object to a state liquor license renewal for the Ketchikan Loyal Order of the Moose. The Council can object to the renewal for certain reasons, including delinquent taxes. According to City Clerk Katy Suiter, the Moose Lodge owes about $9,400 in sales taxes and about $4,500 in property taxes to the city and borough.
The meeting starts at 7 p.m. in City Council chambers. Public comment will be heard at the start of the meeting.