A couple of money-saving and money-generating items are on the Ketchikan Gateway Borough Assembly meeting agenda for Monday.
The money-saving item was introduced during the last meeting. It's an ordinance to redefine requirements for publishing public notices in the local newspaper.
The change aligns borough code with state requirements. The borough's regulations had required more published notices than those called for in state law.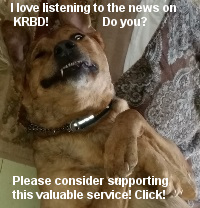 Despite the change, the borough for the time being intends to continue publishing notices in the Ketchikan Daily News, according to the agenda statement, but the cost likely will go down.
The borough clerk's office and the newspaper have negotiated a lower price for published notices, which will reduce costs by about 10 percent.
The Assembly also could direct borough staff to further reduce the amount of notices published in the newspaper.
A potential money-generating ordinance on Monday's agenda calls for eliminating the senior sales tax exemption for the purchase of alcohol, tobacco products and marijuana products.
It's not clear exactly how much would be generated if the ordinance is adopted. Overall, the senior sales tax exemption equals about $560,000 a year.
Borough staff members estimate that eliminating alcohol, tobacco and marijuana from the list of exempted sales would generate about $25,000 for the borough.
Monday's meeting starts at 5:30 p.m. in Borough Assembly chambers at the White Cliff building. Public comment will be heard at the start of the meeting.