Ketchikan's first marijuana retail store is set to open on Saturday, if a Thursday inspection goes well. KRBD's Leila Kheiry went by the Stoney Moose on Stedman Street to see the progress last week, and talk with the business owners.
"Watch your step because it's still an active construction site, but if you come back you'll see how close we're getting," said Mark Woodward as leads the way down a boardwalk alley to the main entrance of what will be the Stoney Moose retail marijuana store and – eventually, maybe, he hopes soon –cannabis café.
That café would allow patrons – with a focus on summertime cruise visitors – to purchase marijuana and smoke it right there at the business before heading out for other experiences. The state Marijuana Control Board has declined so far to approve regulations allowing on-site consumption, but Woodward remains optimistic.
"Eventually, we think that those are going to go through and get approved, hopefully by June, maybe even sooner than that," he said. "I think (the delay) gives them a chance to really look at exactly what they want. I think Eric and I have the best plans for on-site right now, because we consider everything. We have plans for circulating employees… we've already bought our air-handling system, so that's ready to go. But, we're pushing pause on all that because we want to get our store opened up, our retail store. So, we'll go back this way."
We were out on the back deck, with a view of Ketchikan creek and the occasional river otter scurrying up a rocky bank. We stroll back to the alley entrance, which will be the main access for the retail store.
Inside, it doesn't look like it will be ready to open in a week. The walls are framed, but not finished, and a work crew is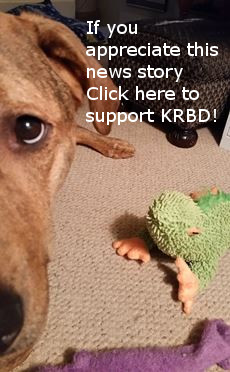 there, busy hammering nails. But, they don't have to finish the whole thing – just the retail area, an office and the bathrooms need to be ready for what they have planned as the first stage.
And they are definitely starting small – the retail area is tiny – about the size of a walk-in closet.
"Pretty small area," Woodward agreed. "What we're going to do is, we have a large glass counter that will fit here, and we'll do something called deli-style."
Deli-style in this case means the various marijuana strains will be in big jars, a "bud-tender" will help customers choose what they want, weigh it out and package it up.
They are working hard to get the space ready in time for their April 6th inspection, and it's a little tight. But, Woodward said it was either that day or they'd have to wait until late April.
"We've had so many people coming up to us, saying, 'Tick tock, tick-tock. When are we opening here?'" he said. "So, we got everyone together last week and we said, 'What do you guys think? Give me an honest answer.' Everybody was like, 'Hey, we want to see you guys open.'"
And while it does still look rough inside, Eric Reimer said the renovation is moving along really well.
"You'd be surprised how quick is goes from the studs to a finished product," he said. "Once you hang some rock up, put the drywall up and a paint job, all of a sudden you're in a finished room, rather than just a roughed in construction room. We'll be there. That's like a one-day thing."
So, the two entrepreneurs fully expect to get their license on April 6. And it's only after they have that signed, official license, that can they receive product.
Woodward said they have a plan in place with Green Leaf out of Sitka, which will provide up to five types of marijuana for the store, initially; and some from a grower out of Fairbanks.
That product should arrive on the 7th, and they're planning an April 8th opening. So, if all goes as expected, their first customer will be the first person to buy marijuana legally in Alaska's First City.
This story has been edited to update information about the store's planned opening day.