An ordinance that would raise water rates for seafood processors by 35 percent annually over the next three years is in front of the Ketchikan City Council on Thursday.
The three processors in the city are EC Phillips, Trident Seafoods and Alaska General Seafoods. They use about half of the city's water in their operations, but pay for about 4.6 percent of the cost.
A few years ago, the City Council agreed to hold off for three years on a big rate hike for heavy water users, so the companies would have time to plan. That self-imposed moratorium is over.
Currently, each company is charged a flat rate of about $46,000 a year for water. EC Phillips uses an estimated 190 million gallons annually – by far the largest user. Trident is a distant second with about 80 million gallons a year; and Alaska General's is estimated at 42.5 million.
If the rate increase is approved, each company would pay about $62,500 this year; about $85,000 next year; and about $114,000 in 2019.
City Finance Director Bob Newell writes in a memo that the additional annual revenue by the third year would total about $200,000. He writes that the rate increases will not only reduce the subsidy for water use, it would bring Ketchikan's water rates in line with what other Alaska water utilities currently charge seafood processors.
Other than seafood processors, the largest water consumer in Ketchikan is the city's wastewater utility, which uses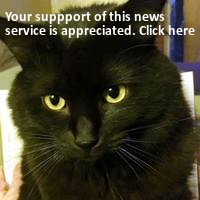 about 78 million gallons per year. Other large water users include the city's Harbor Department (18 million gallons), Vigor Alaska Shipyard (11 million gallons), the borough's Ketchikan International Airport (7.5 million gallons), the U.S. Coast Guard (7.2 million gallons), the Inter-Island Ferry Authority (3 million gallons), and the Alaska Marine Highway System (700,000 gallons).
In a previous meeting, City Council members asked for options to also raise rates for those customers. Newell came up with two: The first increases the flat rate for those seven customers by 5.5 percent; the second raises their rates by 35 percent. Newell writes that he needs Council direction on what option is preferred.
Also on Thursday, the Ketchikan City Council will consider whether to object to a liquor license renewal for First City Saloon's package store license. According to City Clerk Katy Suiter, the business is again delinquent with paying taxes, and owes the city and borough about $6,200 in sales taxes, penalties and interest.
The company was delinquent on property taxes when its license last was up for renewal in 2015.
Thursday's meeting starts at 7 p.m. in City Council chambers. Public comment will be heard at the start of the meeting.