On the anniversary of the treaty with Russia to buy Alaska, a Ketchikan artist went on a mission in Washington, D.C.: to find the spot where William Seward signed the Treaty of Cession, exactly 150 years prior.
David Rubin looks something like an Alaskan prospector, all gray and whiskery, in a felt brimmed hat. He moved to Alaska decades ago. But lately, he and his sister Judith have spent a lot of time in their mother's basement in New York State, sculpting a life-size statue of William Seward, a bronze that will stand in Juneau. It's at a foundry now on the East Coast. But the artists and a small group of supporters brought an 8-pound hunk of the statue out for a walk in downtown Washington last week. The bronze chunk was wrapped in bubble wrap, carried in a tote bag. David says it's a special part of the statue.
It's a "replication of the Treaty of Cession. It's going to go in the statue of Seward hand," Rubin said.
Rubin hoped bringing it to the spot where the real treaty was signed would impart a touch of authenticity to the replica, a thread tying his work to history. His friend Lorelei LaFleur offered to schlep it.
"Wow! Holy smokes!" she said, when the full weight of the bronze was in her hands.
First stop: Seward's home, on Lafayette Square, steps from the White House,
At that house, a man working in league with John Wilkes Booth arrived to assassinate Seward on the same night Lincoln was shot. Rubin said Seward's son confronted the would-be killer on the staircase. The man turned to leave, then spun around with a gun in his hand.
"And the gun misfired. It jammed," Rubin said. "And that was Alaskan history – not yet made but that was key."
The intruder, though, had a knife. He made it into the bedroom where Seward lay in a neck brace, recovering from a carriage accident.
"And he's attacking him with a Bowie knife. The metal brace from the accident saved his life," Rubin said.
Seward was forever disfigured. Rubin says they decided to sculpt his face with scars, in part because they learned the Tlingits, who met Seward when he visited Alaska in 1869, were impressed by his injuries. Still, Rubin said it was a tough artistic choice.
"Yeah, he didn't like his picture being taken after that," Rubin said, "so we were worried he'd be upset, but we said. 'No, no. They see you as a great warrior.'"
Seward's house, the Alaskans found, is gone. Wayne Jensen, of Juneau, searched a street bordering Lafayette Square for a plaque to mark where the house was. No such luck.
"It might've been where that brick building is," Jensen said, "that new brick building, which is a federal building, it looks like."
Jensen is a member of Alaska Historical Commission and he co-chairs the committee that picked Rubin to make the statue. Jensen said a key moment for the Treaty of Cession happened at Seward's house, the night before the treaty signing.
"On the 29th, Seward and his family were playing whist," Jensen said. "Which is a form of bridge I understand. About 10 o'clock at night, and Edouard de Stoeckl came to the house."
De Stoeckl was the Russian ambassador. Jensen says he came bearing news that the czar had agreed to sell Alaska.
"He said 'I can meet in your office tomorrow morning, and we'll finalize the negotiations,'" Jensen said. "And Seward, who knew that the Congress was about to adjourn, said 'why wait until tomorrow? … Let's just do the treaty tonight!'"
The men met at midnight, at the State Department, a mile away. So that's where the artists and their entourage walked with the bronze treaty.
Along the way, Rubin said he'd learned Seward was short and disheveled. Many people found him annoying, Rubin said, but he changed world history.
"He was a kind-hearted person. I know that," Rubin said. "I know that there's a lot of controversy about him being the face of Manifest Destiny. But he was a total abolitionist."
In 1869, when Seward was in Sitka, he spoke disdainfully about Alaska Natives, and many first Alaskans see the treaty as a tool of their colonization.
Rubin, though, points to Seward's active opposition to slavery. Seward's home in New York was a stop on the Underground Railroad. He supported Frederick Douglass and had a long association with Harriet Tubman.
As the small party of Alaskans walked north, downtown gave way to a gentrifying neighborhood. Liquor stores and vacant storefronts mixed with trendy new shops.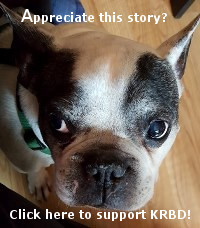 Eventually, the crew reached an unlovely intersection. It was the site of a 19th century orphanage that, for several years, was leased to the State Department.
"Is this the corner?" Rubin asked. "This is it? Oh my God."
Lafleur set down the bronze burden to double check on her phone.
"OK, 'Orphans Asylum and State Department. Vacated by both. And then razed,'" Lafleur said, reading from the small screen. She looked up to get her bearings.
"So that was the gas station that was used for storage," Lafleur said, pointing to one corner. Then she turned to face the nearest building. "So were looking at the State Department. It's beautiful! "
It is not. It's now a block of 1970's era housing. Rubin wasn't disappointed. He and his sister walked past the security fence and took a spot on the small lawn. They unwrapped the bronze replica treaty.
Rubin giggled as he posed for photos. His sister encouraged him to read the engraved words from the bronze.
"Read it? 'Whereas a treaty, between the United States of America and his majesty the emperor … '"
The scene attracted a curious guy from a nearby bus stop.
"Did this happen at this particular spot?" the man inquired. "What year was that?
Lafleur filled him in. She told him it was the 150th anniversary of the treaty.
"What came of it? … Oh right. Seward's Folly," he said.
Rubin wrapped up the chunk of bronze to leave.
"We're now going to take it and place it in Seward's hand, in the statue's hand, and weld it there forever," Rubin said. "But it was here! Where it was actually signed! This is it!" he said, breaking into a giggle. "This is it! We did it!"
Rubin's statue of Seward will be erected in Juneau, across from the Capitol, in July.
This story was originally posted on AK Public Media's website. You can see it here.