New Ketchikan Gateway Borough Manager Ruben Duran was the featured speaker during Wednesday's Ketchikan Chamber of Commerce lunch. In a conversation-style presentation with Kent Colby of KTKN, Duran talked about what drew him to Ketchikan, and what he views as the community's challenges and opportunities.
Duran said he and his wife already had started moving to Ketchikan before the borough manager job opened up. They wanted to live in Alaska, and had taken a cruise to check out the different locations.
"We got off that cruise ship, said, 'Yep, we're right. This is it.' We did a lot of research already online, we put the house up for sale, and then this job opened up," he said.
Duran has been on the job now for a little more than three months. He predicts that the fiscal challenges facing Alaska's state government, and subsequently local governments, will continue.
Duran said in California, for example, where he moved from, the state already has been steadily shifting costs and responsibilities to municipalities.
"California shifted the cost of jails – prisons. They said, 'Well, you're going to be responsible for individuals that are in non-
violent crimes.' Then redefined nonviolent crimes, and said, 'OK, you're required (to deal with) all these other people now, because we redefined what a violent crime is,'" he said. "That's how states Down South are shifting, and I think that's headed our way. Because the state doesn't have enough revenues and that playbook is out there from the Lower 48."
But, Duran said, Ketchikan is in good financial shape to handle economic stress. He notes that the tourism industry remains strong, and will help the community as it develops and expands other industries.
Duran talked about working with local business owners to reduce regulatory burdens; and said he hopes a couple of mine projects on nearby Prince of Wales Island will move forward, helping the region's economy as a whole.
Duran said one area Ketchikan should focus on is attracting more Baby Boomers. He said many from that generation are ready to relocate to somewhere just like Ketchikan, where they can continue to work part-time or remotely while enjoying a place with a good sense of community and access to outdoor recreation.
Duran said the community is what makes Ketchikan special.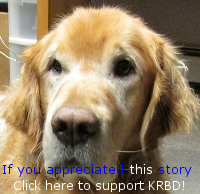 "For example, all your arts programs are really the dividend that these people are looking for," he said. "(Baby Boomers are) saying, 'What kind of community do you have?' Because you can get a lot of places that, we have land, we have water, we have people (who) want to work. The hard part is, how do you get a sense of community and where people are committed? I am always impressed about the generosity and the resources that this community as individuals, not through government, are willing to make to make life better here."
Duran was hired last fall to fill the position left vacant by retiring Borough Manager Dan Bockhorst, who had been in that job for about nine years.