While it wasn't on the agenda, the Ketchikan School Board got a lesson last night about tenure, taught by five of the school district's tenured teachers.
During their March 22 School Board meeting, members talked about the state's statutes regarding tenure. School Board President Trevor Shaw said he'd vote against renewing contracts for the district's tenured teachers because he doesn't like the state law.
Because of his no vote, two abstentions and one absence, the contract renewal initially failed. Shaw did bring the motion back for reconsideration, and it ended up passing unanimously.
The teachers who spoke during public comment last night were not happy with the tone of that March 22 discussion.
Frankie Urquhart is a science teacher at Schoenbar Middle School. She said that if Board members have a problem with state law, they shouldn't use their employees' contracts to make a statement.
"If you gentlemen think that the State of Alaska is going to take notice of a school board president who votes to not offer tenured teacher contracts, or a few members of a school board who don't like how the state handles them, you are wrong," she said. "But you do know who took notice of this debate? The tenured teachers in this district."
Shaw stressed repeatedly during the March 22 discussion that he wasn't criticizing any of the teachers on the tenured contract list, and he wanted all of them to receive contracts.
But, during that discussion, Shaw also stated that tenure is an "arcane" process, and questioned whether it was still needed. Board Member Kim Hodne, who was one of the initial abstaining votes, called tenure a "golden ticket," and Board Member Matt Eisenhower, who voted yes both times to approve the contracts, questioned the state process, which calls for tenure after three years of teaching in a district. He said tenure should mean more than a rubber stamp.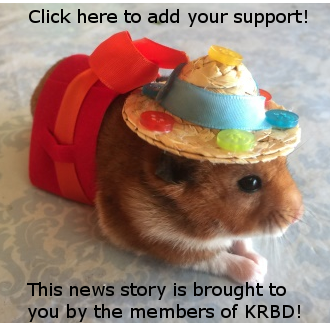 Urquhart addressed some of the comments made by each of those members, and at one point, Shaw tried to stop her.
"I am offended and feel disrespected regarding your … remarks regarding teacher tenure," she said.
Shaw interrupted, saying, "We are not going to question the personal intentions of board members."
Urquhart replied, "You know what, sir? I am in public comment. I am a tenured teacher. I am going to speak."
Urquhart and the other teachers who spoke said that tenure is not a rubber stamp, the three-year evaluation process is rigorous and gives plenty of time for the district to know whether a teacher deserves tenure, and that tenured teachers can be dismissed for various reasons.
They also said that tenure protects teachers from getting dismissed for no reason, or to save money by firing experienced educators in favor of new teachers who start at a lower salary level.
Gerri Davis is a tenured teacher and president of the Ketchikan Education Association. She said tenure protects academic freedom, maintains talent in the school district and allows teachers to fully participate in the community, including publicly expressing opinions.
"Non-tenured teachers may be non-retained for any cause that the employer deems adequate," she said. "This is why you won't see any non-tenured teachers speaking here tonight."
The primary issue Board members had with the state regulations is what they considered a lack of a local voice in the tenure process. Even if the Board had not approved the tenured teacher contracts, they would have renewed automatically in mid-May.
Following public comment, Shaw and Eisenhower thanked the teachers for their comments, and their contribution to the discussion. While Hodne also said he appreciated the speakers' "passion," he took issue with some of the criticism.
Hodne said he comes from a family of educators, and he understands the importance of tenure.
"There has never been another opportunity prior to that night, unfortunately, to have a conversation about tenure," he said. "The contracts were not in jeopardy, they were passed, it did happen. At some point, we have to have a conversation. It's not a conversation about dropping tenure. Nobody wants to do away with tenure. That was never a part of the conversation. I respect tenure, and I believe the bar needs (to be) raised on tenure. That's all."
During that March 22 meeting, the other Board members present were Diane Gubatayao, Misty Brown and Alma Parker.
Brown and Parker voted in favor of the tenured contracts both times, while still expressing concern about the state's tenure regulations. Gubatayao abstained both times and didn't participate in the debate, because her daughter is a teacher.
Also Wednesday, the School Board approved a first reading of a school-boundaries policy that would allow the district to shift students from schools with high enrollment. If approved a second time at the next meeting, the policy would be in place just in case the district faces financial hardships that would limit its ability to hire additional teachers. The board stressed that no school boundaries currently exist.