An arts ferry tour is taking place through Southeast Alaska this April. The tour began in Bellingham, Washington, on April 7th and will culminate in Sitka on April 30th. The first stop in Southeast Alaska for the Tidelines Journey was Ketchikan.
Four touring artists joined Ketchikan locals in presenting their work and ideas around the theme "Signal to Noise," an audio and engineering term that compares the level of a desired signal against the background noise interfering with it.
Nina Elder is a research artist from Albuquerque, New Mexico, who spends much of her time on the road. She says her work is based on "piles of stuff, and holes in the ground."
"As things happen, they bore through something else. There's veracity and a sense of deposit. So in this sense of 'signal to noise,' I really think there are a lot of unintended consequences of our life on the planet, and most of those end up looking like piles of stuff. So that is exactly why I'm obsessed with piles."
Elder creates drawings and paintings of rock piles, illegal trash sites, surface mines, abandoned radio towers and other structures. Elder says she incorporates materials collected at the sites into her work.
Rebekka Esbjornson is a Ketchikan writer. She says in a world full of noise, it can be difficult finding your own signal as an artist. Esbjornson says finding the space, time and energy to create has been a challenge for her over the past decade. She says she has found a sense of place in Ketchikan, and that has helped calm some of the noise. Esbjornson shared a piece she wrote shortly after more than two feet of snow fell in Ketchikan.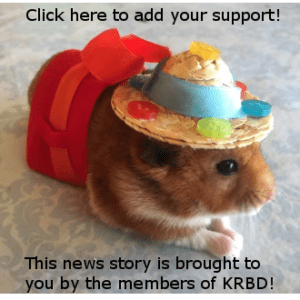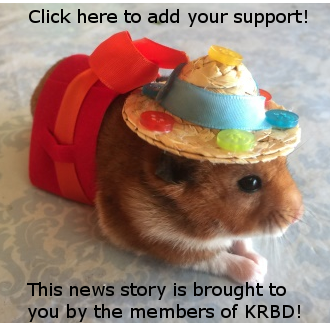 "Our little town strained to capacity, covered in a thick blanket of alien snow, with nowhere to put it. We found ourselves buried, held in place, suspended in time, as if someone hit 'pause.' And so maybe this is also a truth. Maybe this town is actually driven by the thrum of rainfall, a persistent back beat."
Billy Joe Miller of Albuquerque often creates environmentally- based artwork using natural materials. Some are temporary, outdoor pieces, while others are indoor installations. Miller says his work is influenced by religious spaces, and he is interested in art as education.
"…learning as I go, learning from a group, and around the theme. I'm interested in learning how to give better artist talks." (laughter)
Portland, Oregon, artist Wendy Given is a photographer and sculptor. She says her work focuses on animals and nature, and is rooted in folklore, myth and magic. In 2008 she created a series of photographs based on a game her mother and grandmother played with her as a child.
"My mother and Alma, when we were being naughty or particularly out of hand, would say, 'Here's a bag of raw peanuts. Find the elves.' So, if any of you like peanuts or like to eat peanuts, the next time you have a whole peanut in a shell, open it up, and you'll find elves in the seed pods (embryotic root and shoot)."
Looking at the magnified root end of the peanut halves, several attendees commented that they could see faces, many appearing to have hats or beards. Given says she had to open hundreds of peanuts before finding a few with 'elves' in them.
Ketchikan artist Ray Troll says when first asked to participate in the project, he wasn't sure how to interpret the theme, "Signal to Noise." After talking with visiting artists on a walk near Settlers Cove, he felt he had the perfect story to tell. In the distance was Back Island, the site of the Navy's acoustic measurement facility. Troll says in the late '80s, his life and art were consumed with trying to stop construction of the facility.
"I heard that the Navy wanted to build a listening station up here because there was too much noise Down South for their submarines. Here I'd come to paradise, and suddenly submarines were coming to my fishing hole – Clover Pass. And I'm an old hippy and I said, 'No they're not. They can't do that.' And so I vowed that I was going to fight it as best I could. I reached out to my friends and just got obsessed with it."
Troll says he tried to put it out of his mind for years, but discussions about the theme "Signal to Noise," reawakened his thoughts. Troll shared slides of art he created while fighting against building of the facility, and shared information about some of the submarines tested and their weapons capabilities. Troll used an example of an Ohio class nuclear –powered sub that carries 24 Trident missiles, each with eight warheads.
"Eight warheads times 24 equals 192 hydrogen bombs. One warhead is 38 Hiroshimas. Hiroshima killed 146,000 people. So multiply that by 38. Thirty-eight times 146,000, you get 5,548,000 possible deaths from one warhead. Now multiply that by 24."
Ketchikan musician Chazz Gist spoke about how the brain interprets sound. Gist says though you may hear a single note on an instrument, it is actually made up of many sounds. Thinking of the theme, he improvised on the upright bass.
Other presenters were Ketchikan storyteller Jack Finnegan, and conceptual artist Jimmy Riordan who spends time in Alaska and Pennsylvania.
This is the second year of the Tidelines Journey Southeast tour. It's organized by the Island Institute of Sitka.
Other stops on the tour include Juneau (April 15 and 16), Gustavus (April 18), and Sitka (April 26th – 30th).
________________________________________________
You can see the visiting artists' works and learn more about them on their websites:
Nina Elder – ninaelder.com/
Billy Joe Miller – www.billyjoemiller.com/
Jimmy Riordan – www.riordanjimmy.com/
Wendy Given – wendygiven.com/