T
he winners of this year's Alaska Hummingbird Festival Juried Art Show have been announced by the U.S. Forest Service.
In the adult category, Mimi Kotlarov won Best of Show for her "Woven Birdhouse," a spruce root woven sculpture.
Malcolm Doiron won first place for his photo of a trumpeter swan; Jim Geunther won honorable mention for his acrylic and ink of a rufous hummingbird; and Carrie Axelson won people's choice for a watercolor of a rufous hummingbird.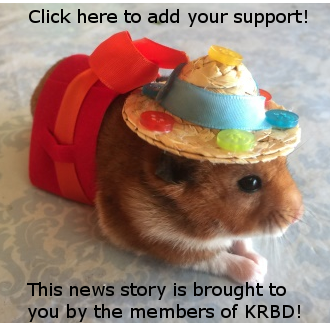 In the juvenile category, Emma Axelson won Best of Show for "City Bird," a colored pencil of a California gull.
First place went to Samadhi Moore for her oil painting of a Western sandpiper; Danielle Grace Lacour won an honorable mention for her pencil image of a rufous hummingbird; and Hope Call won people's choice for her Prismacolor pencil of a swallow.
According to the announcement, 84 artists submitted entries this year – 17 adults and 67 juveniles.
The art show was created 12 years ago with the goal of promoting awareness of Southeast's spring migratory birds. This year's art show will remain on display through June 3rd at Ketchikan's Southeast Alaska Discovery Center.