The Eurodam marked a couple of firsts Wednesday. The 936-foot-long Holland America ship is the first big cruise ship of Ketchikan's 2017 tourism season, and made its first-ever stop in Alaska's First City.
It was a nice morning for a cruise, with a light, albeit chilly, breeze, patches of blue sky and lots of fluffy white clouds. The Eurodam slowly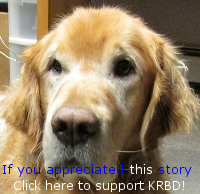 approaches Berth 3 of Ketchikan's downtown dock, and employees of all the tour-related businesses are ready and waiting.
Paula Weisel of Ketchikan's waterfront Arctic Bar is on her deck with her bullhorn, inviting cruise passengers over for a bloody mary. A little ways down the promenade is Stephanie Smith, who manages two local tour experiences, smiling in spite of an unexpected early start to the season.
The Eurodam – with a passenger capacity of about 2,100 — skipped its scheduled stop in Sitka because of bad weather, so it arrived in Ketchikan a day earlier than planned.
Smith says she's ready.
"We did have to fast-forward and make sure we had everything done but, yeah! We're ready," she said.
Steve Patton and Bill Tatsuda stand near the gangway, chatting as they wait for passengers to disembark. They each hold signs with passengers' names printed on them, and each have a day of touring planned.
This is the second year Patton has worked for a company called "Tours by Locals."
"It's an international company headquartered out of Vancouver, Canada. They offer tours by locals all over the world," he said. "So, I booked a tour with Patricia Harrison and here we go."
Patton says he plans to take his group to Totem Bight, Saxman, Herring Cove and wherever else they want to go.
Tatsuda's tour is not commercial. He's waiting for someone he knew from about two decades ago: A former teacher from Wrangell.
"Apparently, I had taken her and her mother on a tour of Ketchikan 20 years ago, which I had completely forgotten," he said. "But she sent a letter and a picture of me standing there with her in Saxman and said they're coming. She has a friend and another couple coming from Japan. So, I said, 'OK, come and I'll give you a tour of Ketchikan.' That's what locals are supposed to do here, right?"
Tatsuda says he'll take his group to the lumberjack show, Creek Street, Tatsuda's IGA (of course), Saxman, his house on the South End, and back to town for some shopping before the ship leaves in the evening.
More tour operators show up as the ship finished docking. More signs appear for the lumberjack show, fishing charters, flightseeing to Misty Fiords National Monument.
Tourists walk up the gangway, cameras in hand, and the 2017 cruise season in Ketchikan has begun.
This is the first year the Eurodam has visited Ketchikan; it's scheduled to make 22 stops this season. An on-board ceremony in honor of the ship's inaugural visit is scheduled for next week.