The Central Council of Tlingit and Haida Indian Tribes of Alaska held its 82nd annual meeting last month in Juneau. At the welcoming banquet, Haida master weaver Delores Churchill of Ketchikan received the Lifetime Achievement Award from council president Richard Peterson.
Ninety-nine delegates from throughout Southeast, Anchorage and the Pacific Northwest attended the three-day event.
Before the award was presented to Churchill, Dana Ruaro gave an introduction.
"Ná anii has such an incredible background, but the most amazing about her is her personality, and how loving she is, how funny she is, the situations she puts herself in."
Ruaro says Churchill is not only a master weaver, but a master diver. She shared stories of Churchill diving for abalone. Ruaro says Churchill is also an avid hiker, and once was a taxi driver.
"She was telling me this story one time about how this gentleman, a nice looking man, wanted to ride up to Ward Lake. He wanted her to take all these back trails and she refused. She said, 'I'm not going up there. If I get up there, I'm not going to be able to get back down, so you get out right here, right now!' She said later on she saw him in the newspaper and he was a serial killer. And I'm not kidding. She really has had an incredible life, given to her by her stubbornness and bluntness."
Ruaro spoke about the many honors Churchill has received, including an Alaska State Council on the Arts fellowship, and a National Endowment for the Arts National Heritage Fellowship Award for Haida basketry. Ruaro says Churchill studied at the British Museum and relearned the six-strand weave, which she brought back to Alaska.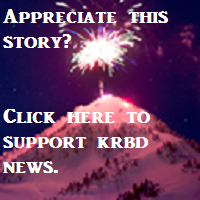 She says basketry was taught differently in the past, and Churchill's mother took steps to ensure Delores' weaving was done properly.
"She spent five years (weaving) until she was actually able to keep one of the baskets that she wove. Because if they weren't good enough, she would make them throw them in the fire and she'd have to start all over again. And so it made her really learn the technique of weaving, which she shared with other people."
Churchill was raised in the Haida village of Masset in the Queen Charlotte Islands. In addition to working to continue the tradition of Haida basketry, Churchill also has worked to preserve the language.
Churchill says she is honored to receive the award, but wished it had happened when her mother, Selina Peratrovich, and other master weavers and artists who passed on the tradition were still alive.
"I think of them every time I see hats. And the slippers I'm wearing are ones that Jennie Thlunaut made for me before she died."
At the ceremony, Churchill wore the same dress she wore in 1978, when her mother won an Alaska Native Brotherhood / Alaska Native Sisterhood lifetime achievement award.
"I also wore her bracelets, because when she was being honored, she also wore her gold bracelet. I very seldom wear them because I'm not a gold bracelet kind of person. Holly (Dolores' daughter) is. Holly loves her jewelry."
Before presenting the award, President Richard Peterson read a proclamation.
"…and whereas Delores is a world-renowned Haida master weaver of baskets, hats, robes and other regalia…And whereas Delores has carried her mother's legacy as a teacher, and has taught and demonstrated basket weaving in many Alaskan communities, nationally, and in countries such as West Germany, Great Britain, Holland, Switzerland, Finland, Sweden and Norway…And whereas Delores is one of the few remaining speakers of Xaad kíl…"
The proclamation also noted that Churchill was appointed to the Governor's Alaska Language Preservation and Advisory Council, received an honorary doctorate from the University of Alaska Southeast, is a Rasmuson Foundation Distinguished Artist, and received many other honors. Peterson also declared April 19, 2017, as Delores Churchill Day.
Thanks to the Central Council for providing audio and photos for this report.
Follow this link to see more photos from the welcoming banquet-
www.flickr.com/photos/ccthita/albums/72157682908770336
Clink on this link to read the complete proclamation – D.Churchill – 2017 Proclamation