If you're a public radio listener, you know Melissa Block. Among her many jobs with National Public Radio over three decades, she was host of All Things Considered for about 12 years. Now, Block is traveling the country for a series called Our Land.
Block and her producer, Elissa Nadworny, were in Southeast Alaska for a couple weeks for a special series about this region of the state. They spent a few days in Ketchikan, and stopped in at KRBD.
During their approximately two weeks in Southeast, Melissa Block and Elissa Nadworny rode in a floatplane, sailed on an Alaska Marine Highway System ferry, hopped a ride in a skiff and went in search of king salmon.
That's just a few of the experiences that will be showcased in a series of stories for Our Land, which focuses on how the places people live in shape their identity.
Block says she's visited Alaska before, but never Southeast, and it is different. I asked for her impressions as her trip comes to a close.
"I think that we're both struck with the notion that Alaskans are made of tough stuff," she said. "Two and a half hours standing up in a skiff over pounding waves to get to Meyers Chuck? No big deal. For us? Kind of a big deal. It's a level of involvement with nature and the elements that I think we're – we're city people – we're not as exposed to."
Block and Nadworny are planning eight stories about Southeast, covering everything from healthcare in rural Alaska to Native culture and traditions, to the state ferry system and, of course, fishing.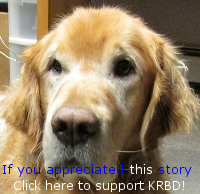 "We learned never to eat farmed salmon, ever. Right? We've been preached the gospel the last couple of weeks," she said, laughing.
One story Block worked on in Ketchikan focuses on the community's transition from timber to tourism.
"What is it like to go from being a tugboat captain working for the timber industry to being a cruise ship pilot, steering the big – we saw one looming in the harbor this morning and another yesterday," she said. "What is that like for people? What does that do to the character and the identity of a town, of a city like Ketchikan to have that upheaval?"
And, they went to Meyers Chuck. Block says she became a little obsessed with checking out that tiny community.
"For no great reason other than I had been looking at maps – I'm a total map geek – I had been looking at maps and I'm always fascinated by place names and somehow the name Meyers Chuck jumped out at me," she said. "I never really got a great explanation for why it's called Meyers Chuck, but it doesn't matter because it's just a super cool place."
They flew out to Meyers Chuck on the mail plane, and then got a ride back to town in a skiff with local resident Shawn McAllister. That was the two-hours-standing-up skiff ride that Block mentioned earlier.
Block and Nadworny say they loved their time in Southeast, and they hope to return. Next time, though, they want to be tourists on vacation.
Block's Southeast Alaska stories will air on National Public Radio over the next few weeks. You can check out the first of the series on the Our Land website: http://www.npr.org/series/512460254/our-land