Holland America's Eurodam is new to Ketchikan this year. A traditional ceremony celebrating the ship's inaugural season took place during the ship's second stop of the summer. KRBD's Leila Kheiry joined a group of Ketchikan representatives to meet the captain and take a look inside the 936-foot floating city.
About a dozen local residents waited in line to board the Eurodam on a slightly misty Ketchikan morning.
After passing through a metal detector, we were greeted by Towanna Stone, the ship's cheerful cruise director.
"You can call me Stone, like a rock," she said. "We're going to the Crow's Nest, so we're going this way."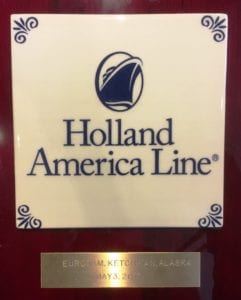 We take the elevator, which has a helpful floor mat telling us all that it's Thursday. Because, we all know, people can lose track of the days when on vacation.
As we arrive on Deck 11, we're greeted by Capt. John Scott, and cruise line staff passed around Champagne and hors d'oeuvres while we admired a high-rise view of our low-rise city.
"This is a different view from up here, isn't it?," the captain said. "One thing you see with a cruise ship when you come into the dock, you can see what the roof of the building looks like. All the sins you don't see from the street, we see from the top of the ship."
Captain Scott says he's been on the Eurodam about two and a half years, but he's been cruising through Alaska and Ketchikan since the mid-1980s.
"I was on the Cunard Princess in those days," he said. "That was 15,000 tons and 700 passengers. The biggest ships up here were the old Noordam and the Niew Amsterdam of Holland America. We always used to say '34,000 ton ships? Ridiculous. Far too big for Alaska.' This (ship) is 86,000. "
Even at that size, the Eurodam is now considered a mid-sized ship. Larger cruise ships already are sailing the Caribbean, and are making their way into the Alaska market.
The ceremony was short and sweet. Captain Scott thanked Ketchikan residents for their hospitality and for making some last-minute adjustments to take the ship a day early the previous week when weather forced it to skip stopping in Sitka.
Ketchikan Gateway Borough Manager Ruben Duran presented Captain Scott with a framed photo by local photographer Terry Pyles, and a plaque commemorating the ship's arrival in Alaska's First City.
"We have a little something for the ship," he said. "This is a photograph (by) Mr. Terry Pyles. Welcome to Ketchikan and we'll see you all summer."
In return, Captain Scott presented a Dutch blue-and-white ceramic tile with the ship's name on it for Ketchikan. It will go in the Ketchikan Visitors Bureau building on the downtown dock, joining other ship plaques from previous inaugural visits.
Stone then took the group of Ketchikan residents on a short tour of the ship, including the bridge. She says that's her favorite spot on board.
"Because the navigation – it's amazing to see everyone at work here, how the bridge team comes together to make it happen," she said. "It's fascinating. Just the math, and everything that has to go into making this ship run."
While she's worked on cruise ships for a while, Stone says before that week, she had never been to Alaska.
"I think it's absolutely beautiful. It's peaceful, it's serene," she said. "I think I could probably live here."
Since she had just started on the Eurodam, Stone has been too busy to get off the ship and explore, so she's just admired from on board so far. But she says she looks forward to seeing the town from the ground next time the ship is in port.
The Eurodam will make weekly stops in Ketchikan, every Thursday until Sept. 28th. It will bring a total of about 46,000 passengers through Alaska's Inside Passage this season.