A seiner hit a wooden float at Thomas Basin Boat Harbor early Wednesday morning, causing significant damage and cutting off electricity and water service to the float for at least the next few days.
City of Ketchikan Port and Harbors Director Steve Corporon said the incident happened a little before 7:30 a.m. The city got a call that the Crystal Bay, a 58-foot fishing vessel, had collided with Float 4.
"I was down there in less than 10 minutes and ascertained that it had basically severed Float 4 from the base of the main float," he said.
There were no injuries from the incident, although Corporon said at least one other vessel – a charter fishing boat – was damaged in the collision.
Corporon said a contractor the city often works with, Western Dock and Bridge, had a representative in town and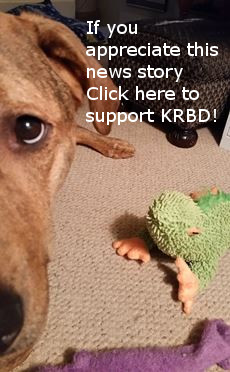 the city was able to get them started working on repairs right away.
"We did get by about 9:30 a section of old float from Bar Harbor towed down there and installed as a temporary bridge from the main float over to Float 4, and that's serving people for now," he said. "If all goes well, we should be able to have everything fixed within the next three days, probably."
Corporon says the Crystal Bay's insurance company will work with the city's insurance company to determine how to pay for damages.
Corporon said the city's Port and Harbors Department will work with vessel owners who use Float 4, if they need electricity and water service while repairs are under way. To get those services, vessels might have to move to another float or harbor.
There also might be limited access to Float 5 because of repair work to the main float.
Corporon declined to speculate about what caused the accident. He said the U.S. Coast Guard is in charge of that investigation.