Three artists in the KRBD listening area are recipients of 2017 Rasmuson Foundation Project Awards. The announcement was made earlier this month. Today we will hear about an artist working to share the stories of foster children and families.
Ketchikan Artist Carmel Anderson says she was inspired to apply for the Rasmuson grant, in part, because of response to her exhibit, "Unheard Voices, Unheard Wisdom." That show focuses on the epidemic of domestic violence and sexual assault. It opened in Ketchikan in 2014, and, since then, has been touring the state through a grant from Alaska Children's Trust. Anderson says the show has been well-received, and the feedback was touching.
"So actually at the State Museum they said 'What are you going to do next?' In the meantime I had been reconnected with one of my three foster sisters, and had heard her story. And it reminded me a lot of the stories I had heard from Unheard Voices, Unheard Wisdom. And I thought, 'Who is sharing the voices of these children?'"
She says she wants to share a variety of experiences that foster children and families have.
"Not only the hardships of these children, but there's also mixed in there a lot of success stories, and a lot of people really doing invaluable work. Opening their homes and loving on these children."
Anderson says there are hundreds of children in Alaska in need of homes, and hopes her exhibit will highlight what foster care is and how it affects children.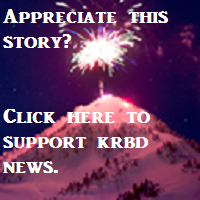 "…through this education that hopefully will just continue to bring awareness to these kids, and hopefully open some homes. And have a deeper understanding of the support they need, and ways to make our communities better, and make life better for children in these circumstances, and for foster parents too."
Anderson says her new show will be similar to Unheard Voices, Unheard Wisdom in that it will be an installation with larger pieces. Project award recipients each receive $7,500. She says she uses mannequins, so the grant will pay primarily for materials and shipping. There also will be an audio component to the exhibit.
"This way they'll hear (stories) in voices of actual people, and maybe a few of them will be read if people don't want their own voices used. But, part of that again is to help people understand what fellow members of their communities are going through."
Anderson says she plans to put out a call to find people who were or are directly affected by the foster care program, both children and adults.
"And, maybe, those brave enough to have had their children placed into foster care. I have never forgotten my sisters, and one who lived with us for a longer period of time truly feels like she was my sister."
She says she hopes the show will provide a powerful message, and, as a foster sister, says the project is meaningful to her. Anderson says this is her first Rasmuson Grant. She is one of 35 recipients of Rasmuson Foundation 2017 Individual Artist Awards.
The two other artists in the KRBD listening area who received 2017 Rasmuson Foundation Project Awards are Everett Athorp of Klawock, and Kandi McGilton of Metlakatla. Tomorrow, we'll hear about Athorp's plan to carry on the tradition of Haida canoe building.