Three artists in the KRBD listening area are recipients of 2017 Rasmuson Foundation Project Awards. The announcement was made earlier this month. Today we will hear about an artist from Metlakatla carrying on a unique style of basket weaving.
Kandi McGilton is a beadwork artist from Metlakatla. Three years ago, she decided to take up basket weaving. She spoke with master weaver Holly Churchill of Ketchikan, who introduced McGilton to Churchill's mother, master weaver Delores Churchill.
"Because I'm Tsimshian and they're both Haida, Holly realized right away that I was having a hard time weaving Haida-style. And her mom, Delores, actually learned Tsimshian-style weaving from some of the past ladies of Metlakatla."
McGilton says the Tsimshians weave clockwise, and the Haida, counterclockwise. She says each of the Churchills are teaching her different skills.
"Delores, she's really good at the Tsimshian style. And Holly, she's a really phenomenal teacher with all the technical aspects of weaving a basket."
McGilton says the Annette Island weaving style is unique among the coastal people. She says it is not only different from Haida and Tlingit, but also from other Tsimshian styles.
"And the big difference with that is the ladies of Metlakatla, Alaska used a 'z' twist instead of an 's' twist, like other Tsimshians normally use."
McGilton says that changes the entire look of the basket. She says the Annette Island Tsimshian also borrowed features from other tribes.
"…our neighbors, the Tlingit and Haida, with a lot of the false embroidery that they use. Those are used with maidenhair fern and canary grass."
She says both of those features make Annette Island basketry unique. McGilton says another feature is that they are made out of red cedar because there is very little yellow cedar in Metlakatla.
"All of the older baskets are made with red cedar. It's not more difficult, but it's different than weaving with yellow cedar. So when you look at them, they really stand out amongst a group of baskets."
McGilton says all of these unique features and adaptations mean the basketry style is the only art form that originates on Annette Island.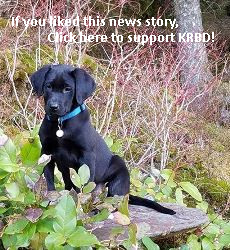 McGilton plans to use the $7,500 Rasmuson Foundation award to travel to museums in Canada and the United States that house the largest collections of Tsimshian baskets. She'll select a few of the baskets, and replicate them with the help of the Churchills.
McGilton says master carver David Boxley is interested in replicating other items, and will join her on the museum trip. Once completed, their pieces will be put on permanent display in Metlakatla.
"So that our community can see, this is what our people are capable of. We're all capable of doing this if we just open our eyes and do the research."
She says she wants to give her people something tangible to look at, because museum pieces are not likely to be repatriated.
The two other artists in the KRBD listening area who received 2017 Rasmuson Foundation Project Awards are Carmel Anderson of Ketchikan and Everett Athorp (AYE-thorp) of Klawock. We aired their stories previously.