A decade-old allegation from the Lower 48 against Houghtaling Elementary School PE teacher Kevin Johnson resurfaced when his contract was in front of the Ketchikan School Board on May 10th, leading to a delay in his contract's approval until Wednesday.
The Board had scheduled an executive session to talk about the issue behind closed doors. However, Johnson asked that the discussion be in open session. He told the Board he wanted to address and refute the rumors publicly.
It all started when someone sent an email detailing that 10-year-old allegation to just a few Board members shortly before the May 10 meeting.
Here is Board Member Matt Eisenhower on Wednesday, asking Johnson to directly address the email's contents: "Have you grabbed the throat of a middle school child that's either refused to stand or remove a hat during either the National Anthem or Pledge of Allegiance?"
"That is an absolute no, and I believe that's a slanderous statement," Johnson replied. "And I do believe I will hold those people accountable. When the time comes, when I find out who made those statements against me, they will be held accountable. That's absolutely slanderous and disgusting."
Johnson said he sued the school district in question over that accusation when it first happened, and won.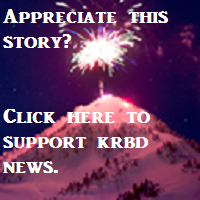 Glenn Thompson is the Board member who asked on May 10th that the vote on Johnson's contract be delayed. He said Wednesday that the email was sent to him late that day, with no time to verify whether the information was true.
"It's alarming information. It's an allegation that we have no way at that point of knowing whether it's somebody that's got it out for you, or whether you put your hands on a kid in anger," he said. "We had no way of knowing. I did know that we didn't know enough at that point for an up-down vote on your hiring. I made a motion to table it. That's what you do. I would do it again to be honest. If you don't have enough information, you don't make the decision."
Board Member Misty Brown, though, said the Board should not have delayed voting on the contract based on an email that only some Board members received.
"I think this was completely sideways. I think it's not transparent. I think it's terrible you weren't given the due process that you deserve," she said to Johnson. "Quite frankly, I'm embarrassed about it and I want to apologize to you."
Eisenhower said he, too, had not received the email. He said he voted to delay because he thought perhaps there had been a breakdown in the administration's hiring process. That was not the case, he said.
Before the Board's discussion of the issue, nearly a dozen Houghtaling parents, teachers and administrators spoke during public comment in support of Johnson.
The vote to approve his contract was unanimous.
Also Wednesday, the Board learned that the state Department of Education and Early Development has approved the planned new Houghtaling drop-off zone for a reimbursement program, but the amount to be reimbursed is not yet clear.
The Board has tentatively planned a special meeting next week to discuss the issue after more details are known.