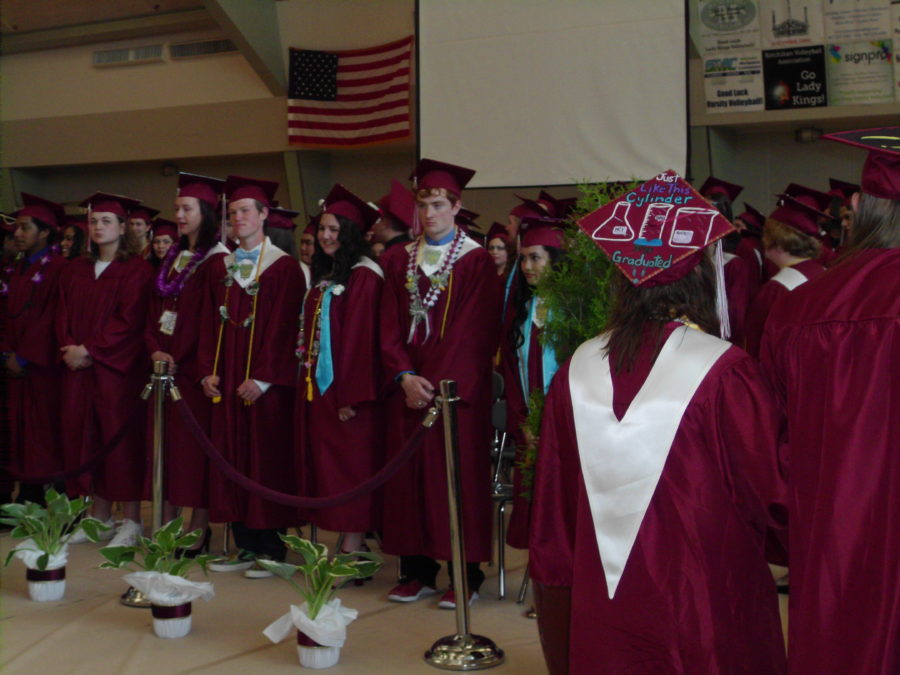 More than 140 students were honored Sunday during the Ketchikan High School Class of 2017 graduation ceremony.
Walking double-file, graduating seniors came into the Clarke Cochrane Gymnasium, while the Kayhi Wind Ensemble played.
After applause and introductions, senior class president Kinani Halvorsen spoke about the class' accomplishments over the past year, in sports, academics, and community service. Halvorsen says she was told to never make promises during a speech, but was breaking that code.
"To all those who have supported us, I promise here today, that we're going to make you proud, because we are the future. And to my fellow students before me, I say with extreme joy, and a little bit of sorrow as well, this is our last time to really come together, at least until our reunion. Congratulations to the graduating class of 2017. We did it."
Seniors Kay Fazakerley and Arra Seludo sang "For Just a Little While."
Valedictorian Alison Blair referenced the class motto, a quote by Mark Twain – "The two most important days in your life are the day you were born and the day you find out why." She spoke of the potential and talent of fellow classmates. Blair says graduates don't need to have all the answers right now, or need to know why, but should keep searching.
"So live. Take the scenic route to life if necessary to see the whole picture. And one day you'll be able to look back and realize that you have found it. Your purpose. Your calling. And it might not be in the area you on anyone else expected."
Kayhi principal Bob Marshall introduced commencement speaker Bill Tatsuda, owner and operator of Tatsuda's IGA. Marshall noted that Tatsuda was named "Heart of the Community" by the Ketchikan Visitors Bureau this year, and is a graduate of Ketchikan High School.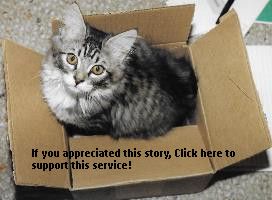 Often humorous, sometimes serious, and occasionally political, Tatsuda began his speech by saying he only asked that people stay awake. He said there would be a quiz at the end that seniors had to pass in order to get their diplomas, and gave them a sample question.
"Who was the speaker at graduation? A. A short Asian looking man. B. An old guy. C. Mr. Tatsuda. D. All of the above."
He followed by saying he was going to show students one of the many ways to get up in the world, and proceeded to stand on a step stool behind the podium.
"I was worried that you wouldn't be able to see me."
Tatsuda graduated from Kayhi in 1966, and was the student speaker at that ceremony. He told the class of 2017 about the experiences of his generation, and the changes that have occurred since the 1960s. Tatsuda also spoke about the economic impact of e-commerce on brick-and-mortar stores, how rapid change is occurring, and how we have to struggle to keep up.
"Having to struggle to make changes, should no longer come as a surprise, but as an expectation. Life is a struggle. And if you're no longer struggling, it means you're probably dead."
He then shared 10 things he's learned since graduating from Kayhi 51 years ago. These include – happiness is a choice, the importance of effective communication, verify facts before you take action, and life is too short to hold grudges.
Citing Dale Carnegie's book, "How to Make Friends and Influence People," Tatsuda noted that no one wins an argument. It is more productive to find things you agree on and work together.
"Let's all write letters explaining this to Congress. 'Dear Republicans and Democrats. Please stop arguing. Listen to each other and find a common ground for the good of the country. Signed, the Kayhi Class of 2017.'"
He concluded by asking the graduates to remember who they are and where they come from.
"You're not just from some little 'Bridge to Nowhere' town, isolated on a remote island. You are someone from somewhere, where we lift each other up, encourage each other, and lend help when it's needed."
Tatsuda spoke about the environment, resources, and sense of community, and finished by congratulating the students.
Principal Marshall presented the class of 2017, diplomas were handed out by School Board President Trevor Shaw, tassels turned, and the Kayhi Class of 2017 officially moved on to the next chapter in their lives.
_______________________________________________
You can listen to Bill Tatsuda's entire commencement speech here.