Schoenbar Middle School celebrated the end of the school year with a special totem-raising ceremony. The Pathfinder totem pole was carved by Schoenbar students over the past year under the direction of carver Kelly White. It now stands in front of the school, where an earlier pole used to stand decades ago.
A blessing song welcoming the ancestors kicked off the totem-raising celebration at Schoenbar Middle School. Students and visitors filled the gymnasium bleachers, and the old totem pole, which had been in storage for many years, lay in a place of honor in front of the lectern.
Principal Sheri Boehlert said the old pole will be returned to the earth, following tradition, after the new pole is raised, also in the traditional way.
"The Pathfinder totem pole project is a striking example of our students, teacher and local community members collaborating and honoring our great strengths, diversity and finding our way," she said.
Diversity was a recurring theme among the speakers. Ketchikan Gateway Borough Vice Mayor Stephen Bradford talked about his former home in Kansas, which is the historic land of several Native tribes. But, he said, the schools there do nothing to honor that history.
"And I'm just very proud to live in Ketchikan and Southeast Alaska, where we acknowledge the rich and wonderful history of people that have been here for centuries," he said. "We're doing that with this totem raising and I'm very proud to be part of it."
Elder Richard Shields talked about the symbolism of the Pathfinder pole. He said everyone relies on their teachers, family, community members and ancestors to help them find their path in life.
Shields gave an example of weavers, first learning to make a basket. Their early attempts are full of bumps and holes, but as they get better their baskets are so tight they can carry water.
"Remember that the skills that are given to you are a gift," he said. "Not only does it belong to you, it belongs to someone else that you're going to be able to encourage. Everything that we're given in our lifetime is a gift. Use that gift to support somebody else."
Schoenbar art teacher Angel Williams received a standing ovation when it was her turn to speak. She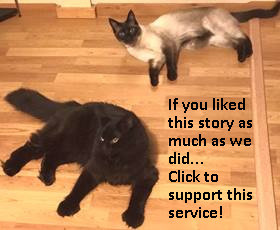 was the organizing force behind the pole, but she used most of her time at the lectern thanking others for their help.
Williams said the pole is about community. The school invited anyone who was interested to come and help carve or paint the Pathfinder pole.
"And we had kids of all ages and all abilities working on this from little ones to big ones to adults to former students," she said. "It is a community pole. It brings us together."
Everyone filed outside for the pole raising, and the rain miraculously held off for the event. Carver Kelly White organized students, teachers and others on the various ropes needed to get the pole into the air.
After it was up and bolted into place, White told the story of the pole. The top figure is a killer whale. White said that when traveling through treacherous waters by canoe, Native people often would follow the path of the killer whale, to find the safest, shortest route.
"So, we put the killer whale up there to represent people who would be considered role models," he said. "People you would follow. Your parents, your teachers, your elders. All these people are trying to guide you through the safest passage while you're traveling from village to village."
Below the killer whale is the sun, which marks the seasons and when certain tasks must be performed.
Next is a wolf. White said wolves must communicate with each other for the pack's overall success.
"Same things goes with anyone else in this world. You have to communicate," he said. "You have to work with one another. You have to talk in order to ensure your survival. It's not about just one. It's about all of us."
The octopus is a figure used by shamans, White said, and eight is a lucky number. So, that figure represents support, luck and spiritual healing.
Three human figures below the octopus represent the Tlingit, Haida and Tsimshian people. Beside them are salmon, which represent perseverance.
"They have to start at the very bottom of the creek and they have to work really hard up the streams," he
said. "That's kind of like you children today. You are working against the tides and the waters in order to get to your destination."
At the bottom of the pole is a bentwood box figure with lovebird design, representing people of non-Native descent.
After telling the pole's story, White performed the traditional carver's dance, but not by himself.
"I don't know what particularly I'm supposed to do, but I'm gonna dance," he said, laughing. "While I'm dancing, I want the people who were involved, whether they held a paintbrush, whether they just held a tool for a moment while standing next to the pole. Whoever has helped with this pole, please join me."
White and others danced around the Pathfinder totem pole, then filed back inside the Schoenbar Middle School gym for more singing, dancing and celebration on the last day of school.