The Ketchikan City Council will talk again Thursday about whether to approve a request for nighttime road construction next summer in Ketchikan's downtown core.
The issue was delayed from the Council's last meeting.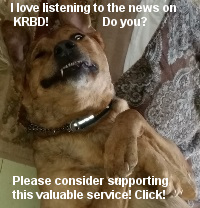 The Alaska Department of Transportation made the request. It's connected to DOT's plans to renovate and repave Front, Mill and Stedman streets.
The project includes sidewalk renovations, but that part is scheduled to start this fall after the summer tourism season is over. The road work is scheduled to start next spring, which is when Ketchikan's tourism season kicks into high gear.
DOT Engineering Manager Chris Goins told the Council previously that the road work, especially paving, needs to happen during the summer months. Asphalt needs warmer, dryer weather to properly cure.
The night work would allow construction crews to avoid making already-busy traffic worse. But a local hotel manager expressed concern to the Council about noisy night work affecting guests.
Thursday's meeting starts at 7 p.m. in City Council chambers. Public comment will be heard at the start of the meeting.