The sweet sound of Otis Redding's 1967 classic "(Sittin' On) The Dock of the Bay" greeted tourists as they milled around Berth Three. This was the third week of Music on the Dock, an effort by the City of Ketchikan to bring local, live lunchtime music to the docks. The program is new this summer.
And who better to talk to about the program's conception than a man whose job is all about Ketchikan's docks?
"I'm Steve Corporon, Director of Port and Harbors for the city," Corporon said.
Corporon said Music on the Dock is inspired by a similar live-music program recently implemented at Seattle-Tacoma International airport.
 "The intent was to try and mimic that a little here, give some of the cruise ship passengers a little taste of some of the local artists; and to provide a little venue for a lot of the local artists," he said.
On Thursdays and Fridays from noon to one, local artists play in rain or sunshine. On a recent rainy afternoon, the Point Band performed under the pavilion at Berth Three.
 "And on nice days, it's supposed to be at Berth Two," he said, shaking his head. "Unfortunately, every Thursday and Friday we've done it so far has not been a nice day, yet. Today was gonna be close, and I don't think they wanna take a chance."
Corporon said the city scheduled the event for the middle of the day to attract both cruise ship passengers and locals who want to enjoy live music on their lunch breaks.
 "And I've been bringing my lunch, in support of the latter part of that," he said. "I usually just tuck myself in back against the back wall there, I open up my lunchbox and I'll eat while I'm listening to 'em."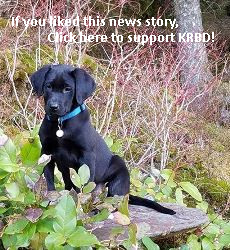 People stopped to listen; some were clearly tourists, but others looked to be locals. One family spread out a blanket and unpacked a basket of food.
Music on the Dock is coordinated by the Ketchikan Area Arts & Humanities Council, said Kathleen Light, the council's executive director.
 "We advertise the opportunity, and we put together a group of local musician experts to screen the applications," she said. "And then we put together a schedule, and we're marketing it. And we're also organizing the sound and stuff for them."
Light said the program supports Ketchikan's reputation as a town rich in arts and culture.
 "It helps promote us as an arts town; it is helping to grow our local musicians, and it's just raising the reputation of Ketchikan and our visitors," she said.
And although the city has green-lighted the program only for this summer, Light said she would like it to become a recurring event.
 "I hope that they think that it's a grand success, and that they want to do it again next year," she said.
Music on the Dock is every Thursday and Friday from noon to one at Berth Two or Three. The program runs through August 24.