The Ketchikan School Board approved an updated nutrition policy Wednesday, but only after a discussion about what Board President Trevor Shaw called "federal overreach."
The updated policy includes required federal and state regulations, which are tied to the approximately $650,000 in federal school nutrition funds that the district receives each year. That's about 80 percent of the district's school meals program funding.
Shaw voted in favor of the policy, but under protest. He said he agrees with a previous School Board member who called federal funds tied to required regulations "blood money."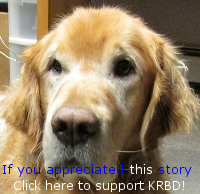 "I know this is something I talk about often," he said. "It's just another one of those federal mandates, edicts, ordinances, whatever you want to call it, that they bring down on us and say, 'Well, you're going to do this as a stipulation for receiving money.'"
Board Member Diane Gubatayao, though, said these particular federal regulations are meant to improve children's well-being by reducing the marketing of unhealthy products, at least in schools.
"In terms of health, in terms of fighting obesity, I get it," she said. "We don't want to be part of promoting and advertising, or marketing things that are unhealthy for kids. I'm totally in support of that."
Glenn Brown said there are a lot of things about the federal government that he doesn't like, but in this case, he's OK with the updates.
"In this circumstance, are they extracting things from us and holding dollars hostage? Yeah, they are," he said. "But I think we're all pushing in the right direction here in terms of getting kids to eat better."
Shaw suggested an amendment to direct Superintendent Robert Boyle to send a letter to federal officials expressing concern about the required regulations. That amendment passed in a 4-0 vote.
The main motion then also passed 4-0.
Board Members Matt Eisenhower and Alma Parker were absent, and Board Member Misty Browne resigned her seat this week.
The Board also voted Wednesday to accept Browne's resignation. With that, the Board now has 30 days to appoint someone to fill the vacant seat until this October's local election.