A 32-year-old Washington State man pleaded not guilty Monday to first- and second-degree murder charges related to the March 16 death of Ketchikan surgeon Dr. Eric Garcia.
Jordan Joplin arrived at the Ketchikan courthouse in handcuffs, ankle chains and a yellow jumpsuit, accompanied by an Alaska State Trooper. Friends of Dr. Garcia along with local police and media observed the short hearing, which Juneau Superior Court Judge Phillip Pallenberg conducted by phone.
The case has been assigned to Ketchikan Superior Court Judge Trevor Stephens, but Stephens is out of town.
Joplin was indicted on Friday on the murder charges. He already had been indicted on related charges of first-degree theft, and has been in custody since late March on those earlier charges.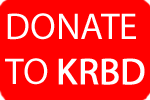 A trial already has been scheduled in the case, starting Aug. 14, but as Judge Pallenberg noted Monday afternoon, the new charges likely will delay that trial.
"It's not my case, but it certainly does not appear likely that a case of this magnitude could be prepared for trial in the weeks that remain before that August trial date on the new charges. I would tend to view that as essentially a placeholder trial date and I wouldn't think that counsel should be anticipating that it is at all likely that the case will proceed to trial in August. But, that's a matter I think you'll have to discuss with Judge Stephens."
A scheduling hearing with Judge Stephens has been set for 8:30 a.m. Aug. 2.
Joplin remains in custody on $200,000 bail.
Prosecutors have so far not revealed the cause of Dr. Garcia's death. Police said in March that there were no obvious causes after a routine autopsy, so a toxicology screening was ordered. The results of that screening have not been announced.