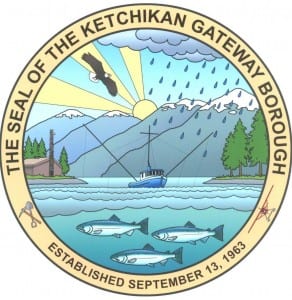 Several candidates for Ketchikan Gateway Borough Assembly and School Board have turned in their paperwork.
Political newcomer Amanda "AJ" Pierce filed for Assembly on Wednesday, and former Assembly Member Alan Bailey filed on Thursday afternoon.
Pierce said she grew up in Ketchikan, and moved back a couple of years ago. She said she wanted to raise her daughter in a safe place, and find a way to make an impact on her hometown.
Pierce said she decided to run for Assembly after others in the community encouraged her. She served on the board for Ketchikan Youth Initiatives, and was part of that group's Youth to Work program.
Pierce said through those activities and her business background, she has insight into economic and workforce development that could be useful to the Borough Assembly.
"I'm a certified mechanic and journeyman pipefitter by trade" she said. "I also have my master's degree in business. Being able to be part of the community where – trade is super needed here."
Pierce is a single mother, plays the piano, enjoys the local arts opportunities and has offered community workshops in basic auto mechanic skills.
Pierce also owns a business in Ketchikan – BizzM3ch Solutions, a consulting company — and said she appreciates the challenges small-business owners face.
There are three seats open on the Borough Assembly. They are held by John Harrington, Mike Painter and Glen Thompson. Painter and Thompson can't run for re-election because of term limits.
There also are three seats open on the Ketchikan School Board. On Thursday, incumbent Diane Gubatayao filed Thursday to retain her seat. She was appointed to an open position last year.
Three seats also are open on the City Council. One candidate, incumbent Dick Coose, filed Tuesday for re-election.
The filing period for local office closes Aug. 25th. For filing information, contact the city or borough clerk.