Gov. Bill Walker came to Alaska's First City on Saturday to experience this year's sun-filled Blueberry Arts Festival. He is attending fairs and festivals around Alaska in place of scheduling the governor's picnics that have been traditional for the past few years.
"What an honor to be back. I had never seen a slug race before I came here. I think that's unique to Ketchikan," Gov. Bill Walker told the crowd from the main stage during Blueberry Arts Festival.
Walker also lent a hand judging the blueberry pie-eating contest, and walked around various art- and food-vendor booths, meeting with local residents.
Taking a break for a short interview with reporters inside the First United Methodist Church, Walker skirted the topic of whether he and Lt. Gov. Byron Mallott would seek re-election in 2018.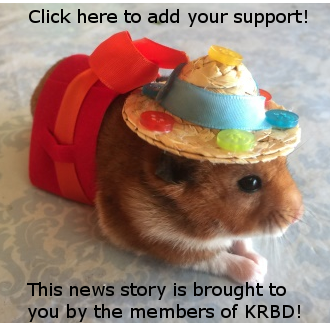 Walker said their intention is to seek another term, but that's not their focus now.
"We have a lot of work to do to fix Alaska, and we are remaining focused on that," he said.
Walker said other state lawmakers have work left, too. He said while the Legislature has made some accomplishments, they still need to find a solution to Alaska's fiscal challenges.
"They have a tough job to do and they're doing it. They're getting it done," he said. "Not as quickly as they would like, not as quickly as I would like, but we're not done yet. We still haven't figured out how to pay for the services we provide. Until we get that figure out, it's not going to be done."
Walker said he expects there will be another special session this fall for the Legislature to find a way to fund government. But, he said, his office will work with lawmakers in the interim to find out what options are most likely to pass.
The ongoing national debate over health care, and whether to repeal the Affordable Care Act is something Walker said he has paid close attention to.
Walker said he's part of a coalition of governors trying to help provide options and input to federal representatives. He said he doesn't want what happens in Washington, D.C., to hurt Alaskans.
"I expanded Medicaid – accepted Medicaid expansion – that's now provided health care for 35,000 Alaskans who didn't have health care before that," he said. "We don't want to lose that kind of coverage. We don't want those folks to go uninsured as a result of what happens in Washington. So, we're very involved in that process."
While President Donald Trump has been pushing for the repeal of the Affordable Care Act, with or without a replacement, Gov. Walker said that, overall, he believes Alaska will fare well under the Trump administration.
Walker said he looks at the president's appointees, especially Secretary of the Interior Ryan Zinke.
"I think that Secretary Zinke is someone who understands the opportunities we have in Alaska with responsible resource development… There are many areas of development in Alaska that we've been wanting to do responsibly, but we haven't had access under federal land to do that. I think we're going to see a difference in that," he said.
Asked whether he would return next year to enter the blueberry pie-eating contest, Walker said he's not sure he's up for that kind of competition.
Gov. Walker is scheduled to return to Ketchikan on Thursday to sign SB88, which approves a land transfer between the U.S. Forest Service and Alaska Mental Health Trust.
Ketchikan's Deer Mountain was one of the parcels that the Trust had said it would log if the transfer didn't take place. The transfer will put that parcel, and other sensitive sites in Southeast, into Forest Service ownership.