The Ketchikan Gateway Borough Assembly had a lengthy discussion Monday about how to fund grants for local nonprofit agencies.
The work session covered various proposed taxes and fees. Among the items the Assembly eventually voted to move forward with was a marijuana sales tax. If it survives a second Assembly vote, it will go in front of voters in October for ratification.
The Assembly's intention is to charge a 5-percent marijuana sales tax areawide, mirroring the city's pot tax. That doesn't mean the tax would then be doubled in city limits; the borough would credit the city back its 5 percent.
Assembly members also asked borough staff to bring back a measure to eliminate the senior sales-tax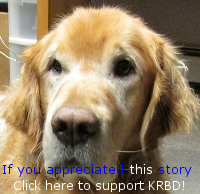 exemption for alcohol, marijuana and tobacco products; and to eliminate the city's exemption from the borough's 4-percent transient occupancy tax.
Grants for nonprofit agencies have come from the borough's economic development fund. That fund is running out.
During public comment before the work session, a number of people spoke in support of nonprofit agencies and the work they do for the community. Juggling her active baby, Rachel Breithaupt read a letter from Cameo McRoberts, who was out of town and couldn't attend.
In the letter, McRoberts said she decided three years ago to return to Ketchikan with her child in part because of the arts opportunities here. She listed numerous nonprofits she's volunteered with over the years, and noted the hard work she and her coworkers at the Ketchikan Area Arts and Humanities Council put in regularly to offer events and art opportunities for Ketchikan.
In her letter, McRoberts questioned the assertion an Assembly member made at a previous meeting that Ketchikan's nonprofit organizations don't have any "skin in the game."
"All our nonprofits have a plan," Breithaupt read aloud. "We have a mission and a board that hold us accountable for that mission… We provide services the local government cannot. We have skin in the game. We have boots on the ground, giving. We have more creative solutions than we are staffed to carry out. Our natural resource, our renewable resource is this community. The creativity, the beauty, the distinctive island nature and the arts."
Also Monday, the Assembly asked borough staff to prepare a fish-box tax or handling fee. Proceeds from that tax likely would have to be used for the borough-run airport, though, rather than for community agency grants.
The Assembly's next meeting is Aug. 23.