Ketchikan experienced a partial solar eclipse on Monday, but it was difficult to tell because of a dense cloud cover and heavy drizzle. Despite the atmospheric limitations, about 200 people showed up at the Ketchikan Public Library for an eclipse viewing party.
Parents brought their kids to the eclipse party for a science-teaching moment, and some adult science fans showed up, too, for what would have been the best viewing spot in Ketchikan.
If only it wasn't raining.
But, Ketchikan doesn't cancel parties because of rain; we adapt. In that spirit, the library provided a live NASA feed of the eclipse on a large TV screen, and offered eclipse-themed snacks, temporary tattoos and lots of handouts.
Sis Coenen, a retired science teacher, also was on hand, giving occasional updates to the overflow crowd.
"That little shadow in totality is only a path of 70 miles wide," she said. "Those eclipse watchers who go to see it say it's a lifetime experience. … The next one is in 2024, seven years from now, and it will run from the Southwest, and out the Northeast."
Pat Tully, Ketchikan's library director, had some challenges getting the various live feeds to work. Too many people across the nation were trying to watch at the same time.
But, she did eventually succeed in getting a NASA feed of the sun.
"If you'll notice, this is a picture of the sun," she said. "This is one of the NASA feeds. If you'll notice, there's just the beginning of a little crescent out of that corner of the sun. So it's starting. I'm going to leave this up for a while, and we'll see it increase."
Some eclipse watchers wanted the in-person experience, despite the clouds, and ventured onto the library's covered deck, which looks east toward Deer Mountain.
Kara and Eric Lunde were there, holding up their smartphones. They have a special app that, using GPS, shows a map of constellations in the area the phone is pointed toward.
"It shows where the moon is in relation to the sun," Kara Lunde said. "You point it and it'll show you what's in the sky.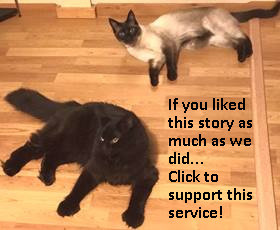 It's showing that the moon is right – we watched (the moon and sun) get closer and closer together."
While we were out on the deck, there was a smattering of applause from inside, where people watched the live feed.
"What are we yaying for?" someone asked.
Totality had been achieved, which meant the sun in Ketchikan – which we couldn't see, remember – was 60- to 65-percent eclipsed. Judith McQuerry said it was difficult to tell the difference.
"Yeah. Just like one more cloud moving in and then moving back out," she said, laughing.
That's just how it is in Ketchikan.