It's rained enough in Ketchikan the past couple of days that fish are swimming across the road.
"We stopped our truck and watched a salmon swim across the road in front of us at Signal Creek Campground," said Paul Robbins Jr., a Tongass National Forest spokesman. "We were not fast enough to get a photo, unfortunately."
Robbins said he and Ketchikan-Misty Fiords District Ranger Susan Howle drove out to the Ward Lake Recreation Area to assess conditions after recent heavy rain.
Stopping to let a fish cross the road was a pretty good indication they would need to temporarily close Signal Creek Campground, which is right next to the lake.
From midnight Monday through about 1 p.m. Tuesday, Ketchikan received more than 8 inches of rain. Rain is expected to continue for at least the next week, and Robbins said the campground closure likely will last seven to 10 days.
Other Forest Service recreation spots in that area remain open for now.
"So far, it's just Signal Creek Campground that we're closing," he said. "Perseverance Trailhead parking lot is still open, because people can still go up the trails and use the day-use areas. But we really want to encourage people to be cautious. There's potentially fast-moving water. There could be falling trees, (and) erosion undercutting the roads and trails."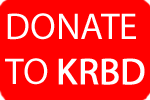 There is water-related damage elsewhere in Ketchikan. On North Tongass Highway sometime early Tuesday morning, part of the shoulder crumbled away, prompting Alaska Department of Transportation officials to issue a warning and redirect traffic pending repairs. There also was flooding on Shoreline Drive.
According to the Ketchikan International Airport flight service station, Monday saw a total of 4.39 inches of precipitation. Then, from midnight until mid-day today (Tuesday), an additional 3.9 inches fell.
The total for the month of August so far is 12.28 inches. The majority of that has fallen in the past two days.