A 23-year-old Ketchikan man was arrested this weekend and charged with first-degree assault for allegedly stabbing another man in the neck.
According to the Ketchikan Police Department, police were called to Front Street at about 2 a.m. Saturday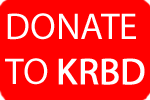 for a report of a man bleeding.
Officers found a man who had been stabbed in the neck. After interviewing witnesses, police arrested the 23-year-old man. Officers were unable to locate the weapon.
The suspect was taken to Ketchikan Correctional Center, where he remains pending a hearing to set bail. The victim was taken to the hospital for treatment.
KRBD doesn't identify defendants in most cases until they've been indicted by a grand jury.