The Ketchikan School Board welcomed new student board member Michael Starr, who took the oath of office during Wednesday's regular meeting.
Starr is this year's president of the Ketchikan High School Student Body Association. In that role, he also participates in school board meetings and has a non-binding vote.
After he was sworn in, Starr told the board that the SBA plans to focus this year on helping fellow Kayhi students get in their required community service hours.
"I've all sorts of ideas that I'm going to try to implement," he said. "One being a new kind of outreach program for kids to easily get their volunteer hours. I have the numbers for the soup kitchen, Pioneers Home, animal shelter, homeless shelter, Big Brothers big Sisters, volunteer rescue and the Forest Service, to see if there's anything that a bunch of high school students can do. And maybe have a table at lunch where you can go pick up your volunteer hours by signing up for a project that we're doing biweekly. Something like that."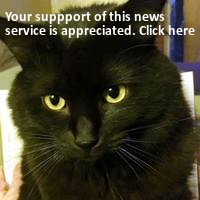 Among the graduation requirement for Kayhi students is completion of 100 hours of paid or volunteer work in the community.
Also Wednesday, the School Board approved outside contracts for three positions the district couldn't fill in time for the coming school year. Those contracts will ensure that the district provides required occupational therapy and speech pathology services.
Superintendent Robert Boyle said that, while the solution is not ideal, contracting out for the services will meet federal and state requirements. It also will end up costing the district less than filling the vacant positions.
"We would like to have a full-time teacher clearly – or a full-time position – but this is where we are at this point," he said. "It gets the job done."
Two occupational therapists will split their time providing that service to the various schools, along with one speech-language pathologist. The combined cost of the contracted services is an estimated $122,000.
Wednesday's board meeting was the last one before the first day of school, which is next Wednesday, Aug. 30.