There were no injuries in an early Monday-morning trailer fire on the North End, but the structure was severely damaged.
Jerry Kiffer is chief of North Tongass Volunteer Fire and EMS. He said the report came in about 5:30 a.m. of a structure fire on Chandler Road, off North Point Higgins.
"Units arrived and found a trailer… the back end of the trailer, about 50 percent of the trailer was involved," he said.
Kiffer said crews started getting water onto the trailer right away, and mutual aid from the city and South Tongass fire departments showed up within about 15 minutes to help. They had about 20 firefighters on scene.
He said it took about an hour to knock the fire down, but much longer to make sure all the hot spots were out, as well.
It's too early to say what caused the fire, which Kiffer said is under investigation.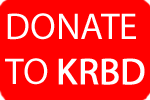 "Currently, the investigators, North Tongass' investigation team is down there with members of a fairly new organized investigation task force made up of Ketchikan Fire Department, South Tongass and North Tongass members," he said.
Kiffer said nobody was injured in the blaze. The trailer's resident had spent the night elsewhere and there were no pets inside at the time of the fire.
He said half the trailer was completely destroyed, and the other half was seriously damaged.
Kiffer noted that the response time for mutual aid seemed faster than in the past, because of a new formal agreement between the island's fire departments. Part of that agreement is automatic mutual aid in case of a structure fire.
"This time was the first time that the automatic aid was activated for North Tongass," he said. "It worked very well. We had mutual aid units responding in about 15 minutes. It was nice to have the extra help, nice to have the extra water when we needed it."
Kiffer said they went through about 11,000 gallons of water fighting the fire.