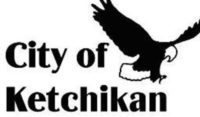 Funding for new water and wastewater pipes along Schoenbar Road is on the Ketchikan City Council agenda Thursday.
The recommended motions would authorize applications to the state Department of Environmental Conservation's loan programs. The first is for wastewater pipes, and would request a loan of about $1.8 million. The second, for water, asks for a loan of about $1.6 million.
Local funding to pay back the loans would come from bonds approved by voters in 2014.
In a separate memo to the council, City Manager Karl Amylon writes that recent heavy rains exposed a 75-foot section of wastewater pipe along Carlanna Creek, and washed out about 175 feet of the creek bank.
Public Works Director Mark Hilson reports that city crews are stabilizing the pipe, and the city has asked for an expedited permit to dredge the area where material from the creek bank settled. The sediment is causing navigational problems in the channel.
Amylon has asked for a special council meeting next week to approve a potential contract to conduct the work. Bids for the work are due on Friday.
Thursday's council meeting starts at 7 p.m. in city council chambers at City Hall. Public comment will be heard at the start of the meeting.