Seven-year-old Addie Epler of Ketchikan is one of six 2017 Summer of Heroes honorees. The announcement was made at the Alaska State Fair in Palmer on August 27th.
Summer of Heroes is a program sponsored by and Boys and Girls Clubs – Alaska and Alaska Communications to honor youth who are making a difference in their communities.
Addie was recognized for spearheading a project to buy new playground equipment for a tot park. At the age of 5, she addressed the Ketchikan Gateway Borough Assembly asking for help.
"I said, 'Mom and dad, they're breaking down the park and I really like this park because it's across the street from us, and could you help me fix it?' And they said, 'yes,' so then we sent letters to the borough and we talked to the borough, and I sent letters to the president (of the United States)."
Addie says she received an encouraging and supportive reply from then President Barack Obama.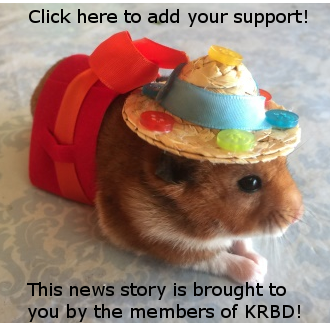 Addie applied for grant funding, and gathered others together to help clean up the playground. With the grant, she also was able to hold an ice cream breakfast event at the Ketchikan Public Library where she handed out hundreds of free books to promote literacy. Following the event, she and others read aloud with senior citizens at the Ketchikan Pioneer's Home.
Addie says she plans to work on other community projects, but is busy with school right now.
"I probably will come up with something in the summer because summer is when I'm off.
Jennifer Brown is director of development and communications for Boys and Girls Clubs – Alaska. She says about 70 youth were nominated for awards this year, with 15 moving on to the finals.
"And then there's a large judging panel of community members and Boys and Girls Club folks that spend a day going through those 15 finalists and scoring them and choosing which are worthy of being celebrated and given scholarships."
Brown says the Summer of Heroes program is in its seventh year, and Addie is, by far, one of the youngest recipients.
"She is an amazing little girl and I can't wait to see what she does in the future."
Other honorees this year ranged in age from 13 to 18. Brown says each honoree receives a $1,500 scholarship through the Alaska College Savings Plan.
Addie says she's not sure what her future plans are, but would like to go to London to get training to be a YouTuber, or she might become president of the United States, or both. At age 7, she still has a few years to figure that out.