One million is a big number, and Ketchikan hit that number at around 10 Monday morning. As Candy Borda disembarked from the Norwegian Jewel cruise ship, she became the one-millionth cruise ship passenger to visit Ketchikan this year.
Candy Borda knew something was going to happen when she arrived in Ketchikan. She and her husband, Fernando, and their kids, Brooke and Hunter, were told the previous night that there would be a surprise event.
But, they didn't know what it was until they walked off the ship.
State Cruise Line International Association president John Binkley greeted the Bordas, and hung a sash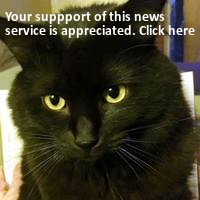 around Candy's neck, marking her as Ketchikan's one-millionth cruise passenger.
She didn't just get a sash. A large group had gathered for a true celebration. Binkley introduced her to the crowd at the top of the ramp.
"This really is a historic event because it's the first time ever that one million cruise passengers have come to Ketchikan in one summer season," he said. "Candy Borda from Fort Lauderdale, Fla, is the one-millionth passenger to Ketchikan this year."
How do they count one million passengers, though? Mike Tibbles of Cruise Line International Association of Alaska says it starts with projections. Through those numbers they were able to figure out which ship would carry the millionth passenger.
"Then we work with the ship from there," he said. "It's just not practical to count every person as they get off. But we do a pretty good job of estimating what ship it will be, and then we go from there."
He says the ship counted passengers as they boarded, and that's how they knew ahead of time that Candy Borda was the millionth cruise visitor for Ketchikan.
The community knew it would happen this year, and the Ketchikan Gateway Borough Assembly had already approved a proclamation, which Vice Mayor Stephen Bradford read to Borda and her family.
"And whereas hundreds of thousands of visitors have enjoyed and experienced Ketchikan's scenic beauty, wildlife, fascinating history and culture, purchased wild Alaska seafood, locally produced art and other products; and whereas the visitor industry plays a vital role in the economic well-being of Ketchikan," he read.
Bradford listed a few of those economic benefits, such as about $200 million in overall spending, and about 1,500 jobs, which is a lot for a community of 13,000.
"Now therefore, David Landis, mayor of the Ketchikan Gateway Borough, hereby acknowledges the importance of celebrating Ketchikan's one-millionth cruise passenger in 2017," Bradford read. "And he calls upon all Ketchikan Gateway Borough citizens to join with him in celebrating this momentous occasion."
Candy Borda received a copy of the proclamation, along with a large basket of gifts, donated by Ketchikan businesses and organizations. The Alaska Native dance group New Path Dancers, led by Kevin Clevenger, performed for the celebration.
Binkley noted the importance of Ketchikan as a stop for so many of Alaska's visitors.
"Visitors come for the beautiful scenery, the mountains, the forest, the wildlife," he said. "But when they leave Alaska, particularly when they leave Ketchikan, the thing they remember most is the people."
Candy Borda said the people of Ketchikan made her feel like a celebrity. And, she says, it truly was a surprise.
"I was shocked. I was shocked and I was thrilled," she said. "That's really amazing to be the one-millionth visitor, because this is the first time I've ever been to Alaska. So, what an experience! And then to have all of this? I was just really, really grateful."
And it's the Bordas' 28th wedding anniversary. So, welcome to Alaska, and happy anniversary!