UPDATE: The Ketchikan Gateway Borough announced Wednesday evening that the ramp has been repaired and normal ferry operations have resumed.
Tuesday's report: A ramp allowing vehicle traffic to drive on and off the Ketchikan International Airport ferry broke Tuesday morning, and it's not yet known when it will be fixed.
Ketchikan Airport Manager Mike Carney said the ramp is on the airport side of the channel, on Gravina Island. He said both hydraulic cylinders that raise and lower the ramp broke. The broken ramp trapped the ferry Ken Eichner on that side.
"We've taken the cylinders out and we have them at the shipyard, and we're exploring a couple of different fixes with the hydraulic company that made the cylinders," he said. "Until we get that fixed, there's only foot traffic to the airport."
Carney said it's unclear why the equipment broke in the first place. And, he said, he can't predict when or if those cylinders will be fixed. If they can be fixed, it might be a few days before the ramp can be used again. If they have to order new ones, it will be longer.
Until that's taken care of, anyone wanting to go to Ketchikan's airport will board the backup ferry Oral Freeman at the usual terminal, but then will be taken to the floatplane dock, where they will have to walk up with their luggage. That poses a problem for anyone with mobility issues. But, Carney said they have luggage carts and people to help.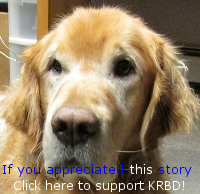 There's also the question of emergency medical flights.
"We've talked with Guardian and the hospital and we have a plan in place," he said. "Critical medevacs are just going to have to utilize a helicopter. So, there's plans for that, but it definitely makes it more of a challenge."
Guardian Flight is one of the medevac services in Southeast.
Carney said mail and freight is another challenge, and they've been hauling that by hand. They're also working with the local mortician.
"Deceased people come in on planes all the time," he said. "They need to get to a certain place in short time frames."
The ferry is maintaining its normal schedule, but Carney does recommend that anyone traveling out of Ketchikan while the ramp is broken — try catching an earlier ferry than usual, to make sure they have enough time in case of delays.