A U.S. Navy veteran has spent the summer sailing up the coast into Alaska's Inside Passage. Shawn Meyer, accompanied by other veterans during his journey, has been filming the experience and uploading episodes along the way for YouTube show, Sailing the Sea Bear.
Shawn Meyer has had some interesting life experiences. He was a Navy bomb tech for 22 years. Through that service, he traveled all over the world. When he retired, Meyer says he tried doing the same thing as a civilian contractor, but hated it.
In the meantime, he'd seen a show about traveling through Alaska.
"I was in the desert and had the boat and I was like, 'I wonder what it would take to do that myself? I'd like to do that,' he said.
That was about three years ago. He went to the San Francisco School of Digital Filmmaking. His final project was his first episode of Sailing the Sea Bear, filmed in Drakes Bay in Northern California.
"Yeah, I just decided that was the course I wanted to take," he said.
And that course brought him to Alaska this year. Meyer recruited friends to help him on the journey. He started in early May, sailing up the coast, meeting family, friends and former Navy buddies along the way.
"Went kind of through the San Juan Islands to Vancouver. Through the southern part of the Inside Passage, through all the islands. Through Prince William to Ketchikan," he said. "And when we got to Ketchikan, it started raining."
Yeah. This summer was a record-breaking year for rain in Ketchikan, which is saying a lot for a community that gets an average of 150 inches a year. It also rained in Ketchikan when they arrived on the way back.
Joining him for much of the Alaska portion of the trip was fellow veteran Chris Anderson, who pointed out that all the rain made it easy to find where all the leaks were in the Sea Bear. Meyer was able to fix most of them during the journey.
But I digress. Meyer pulls out a chart to show their route through Alaska's Inside Passage.
Pointing to the map, he shows how, from Ketchikan, they sailed up to Wrangell and Petersburg. Then they made their way into Fords Terror, in Tracy Arm.
"This was just amazing. It's like 2,000 feet high on both sides," he said. "And there's a small, narrow entrance with a rapids. So you can only get in there for about half an hour every day, once a day."
In addition to the sheer rock walls, there were waterfalls and huge chunks of ice from the glacier. Big enough to seriously damage the Sea Bear, a 1985 Landfall 39. Meyer says he didn't plan for navigating around icebergs on the way out, especially after the sun went down.
Luckily, there was a cruise ship headed out at the same time.
"Like a small cruise ship, an adventure cruise ship, pulling out, and we just tucked in behind it and it broke ice for us," he said. "Not only that, but he kinda knew what we were doing so he was spotlighting the icebergs for us."
They continued up to Gustavus and Glacier Bay, where they had the whole park pretty much to themselves. They came back through the outside waters, which Meyer says was pretty rough. But they got to see the northern lights while tied up at Red Bay off Prince of Wales Island.
"I was sitting on deck and had my audio gear out," he said. "I was shooting pictures of the northern lights and a whale breached right next to the boat. I have that on audio. It was pretty amazing."
Meyer has been filming throughout the journey, editing at night and uploading episodes when he's able. That was one of the biggest challenges – finding a connection.
"Yeah, it's really tough," he said. "Even right here, I don't have service on my phone. The harbor wifi doesn't work. So, you have to go and look for a place, like a coffee shop to upload stuff. We spent like six hours outside of a coffee shop in Seattle. In Seattle!"
Not downtown Seattle, he clarified, but at the port.
Meyer still has three more episodes to edit and post from this trip. Over the winter, he says he'll go back through all the footage in hopes of creating a feature-length documentary. Meyer is also headed back to school, this time to study boat building.
He doesn't necessarily want to build boats; he wants to know how to refurbish and repair the Sea Bear for more adventures.
"Making it ready for a really long voyage where I'm going to go down to South America, across the Bahamas and up to Europe," he said.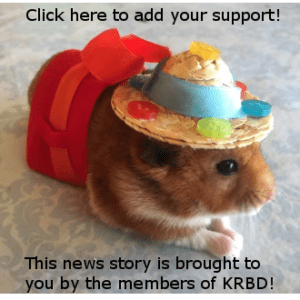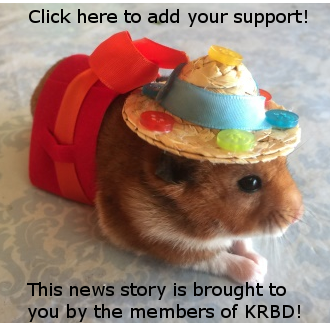 The refurbishment will include interior boat design, to maximize use of the space. And it is pretty crowded in the cabin. In addition to various gear, food and cooking equipment for two people, they had all the stuff for filming and editing. Meyer pulls out a laptop to show some photos from the trip, including a salmon stream and fishing bears.
"It looks like it's growling, but it's yawning," he said of one close-up of a black bear. "I have this on video. He's a horrible fisherman, this bear. The other bear walked down and got a salmon before we could even turn on the camera. This thing was sitting in the water for 15 minutes, like 'I can't get a fish.'"
Meyer says his Southeast Alaska journey rates high.
"I've been around a lot of places, like 45 countries, and this is definitely my favorite adventure of my whole life," he said.
Well, thanks! We kinda like it here, too.
You can view episodes of Sailing the Sea Bear at https://www.sailingseabear.com/ Meyer also has posted photos from his journey on his Facebook page, also called Sailing the Sea Bear. The cinematographer for the first part of the journey was Phil Langford.