The Ketchikan City Council on Thursday night approved a revised agreement with PeaceHealth regarding council participation on the local hospital's Community Health Board.
The city owns the hospital building, but it is operated by PeaceHealth. Council members were unhappy with an earlier proposed agreement drafted by PeaceHealth that strictly limited how the council member appointed to that board could participate.
The revised proposal appoints the city manager as the council's representative on the Health Board. It also allows the manager to participate as a full member of the board except in cases where the manager has a conflict of interest.
The revised agreement was approved 6-1 with councilmember Janalee Gage voting against the motion.
In second reading, the council voted in favor of declaring 623 Gateway Court surplus property and authorizing its sale. The property is the site of the former regional youth detention facility.
Councilmember Judy Zenge requested a discussion of the city's policy regarding hiring family members as volunteer firefighters. Under current policy, if family members are already fire fighters or volunteers, additional family members or relatives are unable to volunteer under certain circumstances.
During public comment, several people addressed the council on this issue.
Zachary Tighe says he applied to be a volunteer at the Ketchikan Fire Department, but his application was rejected because a family member is a fire fighter. He says he has been a Boy Scout for 12 years, and believes the skills and values learned in scouting have prepared him to be a volunteer.
"In addition, I am already CPR and wilderness first aid certified. I have been the first aid provider on scouting outings the last few years. And now that I'm 18, I'd like to become an EMT. I also have a number of community service hours through scouting. I'm not looking to have a full-time job, and only looking to better serve my community. I'd like to close with this statement. I would like to be evaluated on my skills, instead of judged by my last name."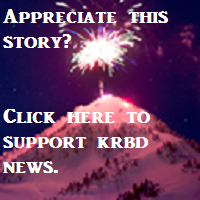 Tiffany Cook, chair of the Ketchikan Volunteer Fire Department, spoke on behalf of the membership.
"For many families, the fire service is a tradition that goes back generations. The Ketchikan Fire Department is no different. Forty percent of our current membership, both career and volunteer, currently have or have had family members in the department."
She says while there is a 2013 exemption that allows the hiring of family members in times of need, retention can be difficult, in part, due to time commitment and training requirements. Cook says family members are often the most successful because they understand the commitment they are making.
During consideration of the issue, the council gave direction to city staff to draft a revised policy to be brought before the council at a future meeting.
Also Thursday night, the council approved an approximately $118,500 contract with Channel Electric to purchase and install a back-up generator at the Saxman Community Center, and authorized solicitation of competitive bids to replace two Ketchikan Public Utilities vehicles using money already appropriated in FY2017.
The next regular meeting of the Ketchikan City Council is Monday, October 16th.