A dog café – apparently the first one in Alaska – celebrated its official opening last weekend in Ketchikan. The café offers gourmet dog treats and an enclosed play yard. There's also coffee and treats for humans.
As her three dogs run around the good-sized play yard, Gretchen Moore gets ready to open My Best Friend's Place for the day.
It's a coffee shop, but dogs shouldn't drink coffee. So that one part is for people. The rest of the business is all about dogs. Moore sits down briefly to talk about how she got the idea for a dog café.
"I was in Seattle and we were at a hotel. Out the window we watched dogs and people go into a coffee shop, get their coffee, then come out of the coffee shop and go down the street half a block and go into a dog park and just have fun," she said. "So, I thought maybe Ketchikan needed something cool."
Work started in November of last year, picked up this spring and is not quite finished. There are a few items that still need some work. The whole complex includes a retail pet store, a self-serve dog bathing area and of course, the dog café.
Moore said the coffee shop works with health codes because all the human beverages and wrapped snacks are self-serve.
"We don't serve you, we will serve your dog, though," she said. "One of the most popular treats we have is the pumpkin puppicinos. They're super cute and 99 percent of the dogs love them."
So, people bring their dogs, get some coffee, maybe a treat for their dog, and then they can stay in the café with their dog. If the canine is feeling energetic, though, they can go with their human into the play yard.
Moore said they'll work with dog owners who have anxious or aggressive dogs, too.
"You can come in here with that dog and we will give you your time with that dog to run and play," she said. "So, it's a nice opportunity for people that are working hard to socialize or rehabilitate a dog."
Moore also heads up BARK, a nonprofit animal rescue organization. It started about three years ago, and also operates out of the new location.
Before this new venture, Moore's business was centered at Groomingdale's boarding kennel. That location also housed a small retail space and the rescue operation. Only the boarding kennel remains at that North Tongass Highway site. The rest of the business is now inside city limits, close to Wal-Mart.
Moore takes me around the new facility, which will include a cat café, the Litterbox Lodge. That's where people will be able to sit and drink coffee with BARK's adoptable feline guests. But that's not open yet.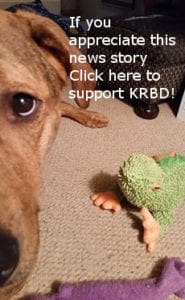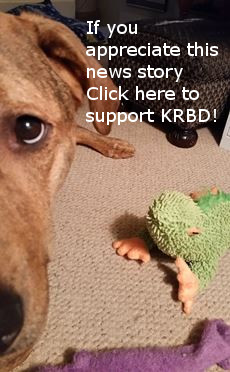 "We set it up, but it was just sort of a quick set up and… I just didn't like it," she said. "So, I'm changing it. So, we're not going to go in there."
There aren't any cats in there, anyway, because three were adopted the previous day.
"This is the self-bathing room," Moore said as we enter a separate small building across the play yard.
This room is of particular interest to me, because I have a large dog with a tendency to roll joyfully in dead fish. The tub is at waist level, and she said they'll help a person find the right shampoo for their dog's needs.
They also have blowers to dry the dog after its bath.
The new, larger retail space has all the items one would expect, including a rather zen-like room dedicated to tropical fish and reptiles.
After the tour, I get my two dogs out of the car and turn them loose in the play yard with Moore's dogs. Just to test it.
It passed the test.