At Wednesday's Chamber of Commerce luncheon, City of Ketchikan Port and Harbors Director Steve Corporon spoke about department operations, and gave an update on projects.
Corporon says to remain competitive in the cruise ship market the city has to expand its port. He says ships are getting larger and those vessels, known as post-Panamax ships, are up to 1,200 feet long. He says Berth 3 can accommodate the larger ships, but the other berths cannot.
"All these ships are built for places that are not Alaska – with a 25-foot range of tide."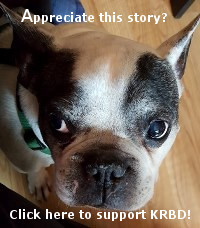 Corporon says access points where passengers get on and off ships are about 8 feet above sea level. Because of Alaska's large tidal range, post-Panamax ships have to be docked to a barge that goes up and down with the tide. Long gangways provide land access. Corporon says a longer barge is needed at at least one other berth, and at least two gangways needed at each barge.
He says projections show Ketchikan is not going to get more ships, but every year, one or two bigger ships will rotate into the market. Corporon says the Norwegian Sun will be replaced by the 1,070-foot Norwegian Bliss.
"The Sun is only 880-feet-long, give or take. A good passenger day for them is maybe close to 2,000. The Bliss. We've talked to the captain. Their lower berth count is a little over 4,000. But they routinely are going to be selling (to) between 4,800 and 4,900 passengers during the heart of the season. So that's basically like putting two Norwegian Suns at Berth 3 at the same time."
Ketchikan saw its first one-millionth passenger in the 2017 season. Corporon expects a similar number next season. He estimates over the next 10 to 15 years, the maximum number of passengers will self-cap at one-point-four million.
Corporon says they are looking at options for expanding either Berth 1 or 2, or both. He says because of the size and draft of the post-Panamax ships, a rock pinnacle will need to be removed from the channel.
"It'll have to be drilled. We're hoping that we can just hydraulically fracture it and remove it and not have to use some explosive material, because that can be harder to get everything permitted. It would get permitted, I'm confident, it would just be more onerous."
Corporon says removal of the rock will cost about $6 million. He says $4 million will come from port reserves, and $2 million from the State of Alaska. Corporon says they hope to complete that project next winter.
Along with dock expansion, Corporon says upland improvements also are needed. He says by adding barges, dock space will be freed up for bus staging areas. Corporon says in the case of Berth 3, there is no place to grow horizontally, so it would require growing vertically.
"Put a second deck on the parking lot on the north side of Tongass Trading (Company). It would have to be structurally independent because the one right there now is not rated even for trucks. You know how you have to go underneath that thing to get on there. That's not to keep tall things out of there, it's to keep heavy things out of there, like buses."
Corporon says it will be up to the Ketchikan City Council to decide which berth expansion option to approve. He says it will cost about $35 million to upgrade and expand Berths 1 and 2. Corporon says that would be paid for with port revenue bonds that would need to be approved by voters. He says Commercial Passenger Vessel funds and docking fees would pay back the bonds.