A University of Alaska Southeast student will be the first ever to receive credentials in Tsimshian language studies. Victoria McKoy presented her capstone project last Thursday at the UAS Ketchikan Campus Library.
Victoria McKoy's mother is Haida-Tsimshian, and her father is Haida.
"My Tsimshian name is Ggoadm ˈDeebn. It translates to 'heart of a sea lion.' When I was given the name, my brothers and sisters said that I appear shy, but I go straight for my target."
And one target for McKoy has been learning her Native languages. It started about five years ago, through classes at Ketchikan Indian Community. KIC offers immersion classes in X_aad Kíl, the Haida language, and Shmˈalgyack, the Tsimshian language.
Terri Burr is a language apprentice under Tsimshian elder John Russell Reese. She says she and Reese have been teaching Shmˈalgyack for about eight years, but realized more apprentices were needed to keep the language alive. Burr says McKoy was attending Shmˈalgyack classes regularly, and was offered an apprenticeship last year.
"And she's just continued to come and be a part of the mentor-apprentice sessions, the immersion sessions in John's house, and helping with documentation and transcription."
Burr says McKoy also helps teach classes.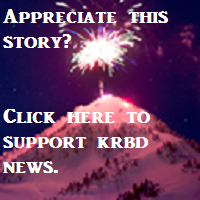 McKoy originally was a psychology major but changed her degree to Alaska Native language studies.
Along with Shmˈalgyack, McKoy studies the Haida and Tlingit languages. She's on track to graduate in December with a Bachelor of Liberal Arts in Alaska Native Language Studies, and when she does, she will be the first person to receive the Shmˈalgyack credential in the United States.
Burr says having the Native Language Arts program in the university system allows others to study the languages more fully and helps with language preservation.
"Students now, after Victoria, can pursue this degree specifically to study Shmˈalgyack."
Burr says McKoy can also start teaching.
"John and I screen her and assess her speaking ability, and I've been teaching her different teaching methods that we use in class. She's experienced as a student and instructor with them. So she can begin helping us in our language revitalization efforts. She becomes a member of our team – our revitalization team."
McKoy says she first attended language classes with her mother, brothers and sisters.
"It was my mother's wish that we would all speak Shmˈalgyack. She passed away the day after my son was born. So I continued her wish and I continued to teach my son our Native language."
McKoy says she taught her 3-year-old son Shmˈalgyack before English, so Shmˈalgyack is his first language. She says he also speaks the Haida language, X_aad Kíl.
McKoy says after she graduates, she plans to continue to teach and learn, and to translate more Tsimshian stories with Reese and Burr.
"I got a job offer to teach beginning Shmˈalgyack with the UAS campus. And I would like to continue on with my Master's degree. I'm applying to Simon Fraser University, and the program starts in July."
Terri Burr says the key to language revitalization is immersion programs and more teachers. She hopes McKoy's degree will inspire others to become apprentices and learn Native languages.