The Tongass Historical Museum hosts "Museum Midday" programs most Thursdays at noon. The program features a different artist whose work is displayed in the "Upholding Balance" exhibit.
"Upholding Balance" celebrates 40 years of the Totem Heritage Center's Native Arts Studies Program. It features 100-year-old pieces alongside contemporary pieces. One of the featured artists is Tlingit carver Nathan Jackson, who spoke about his life, how he became an artist and carver, and his appreciation of the work of others.
Jackson says he was a fisherman and believed that would be his career. But when he contracted pneumonia in his mid-30s and was hospitalized, his plans changed.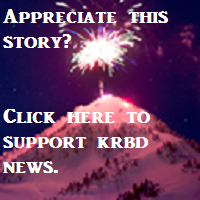 "One of the things that happened during that time was…I think the term that I would use is 'sometimes chickens, sometimes feathers.' And in that situation, I lost out completely. There was hardly any pocket money to speak of. And what do I do with my life?"
Jackson spent 54 days in the hospital, missing the summer fishing season. During that time he whittled small totem poles, no more than a few inches high, to pass the time. When he was finally able to leave the hospital, Jackson decided to sell the totems.
"I told the nurses, 'Those totem poles there, they have a price on them.' And I was going to see how may I could (fill) the showcase with. And then I sold them all, and ended up getting some painting (commissions)."
Jackson says during his hospital stay, he also spent time drawing and took up oil painting, mostly portraits.
Jackson says he spent a lot of time in museums observing others' work. While serving in the National Guard in Juneau, he says he began carving bowls, frontlets and spoons, using wood from local maple and alder.
"That was one of the things that became available and it was free. It didn't cost me anything, I just had to do a little hiking."
Jackson says he was able to make enough money to survive year-round.
In the early 1960s, Jackson joined Haines' Chilkat Dancers. One of the stops that the group made was in Santa Fe, New Mexico, where they performed at the American Indian Arts Institute. Jackson brought along one of his paintings. He showed it to the staff and was accepted into the school, where he studied for about three years.
Jackson shared stories of the projects he's worked on over the years, including two cedar panels on display at the Ketchikan International Airport. It was during that project that he decided to move to Ketchikan and make it his home. Jackson says time, and transitioning from fisherman to carver, has taught him a lesson.
"There's a time when you realize that you're going to be walking around with a cane. And you already feel those things happening in your knees. And then you thank the Lord for your hands. You can still be able to do something with your hands."
He says he was upset when someone came up to him and called him "the last of the Tlingit carvers."
"And I thought, there are those that are coming up. Those that are not here yet. Those that have those traits and capabilities to be able to do artwork."
Jackson also spoke of the many carvers and artists he admires and has worked with. Jackson says many of the older carvers no longer work, often due to loss of vision, and that it is important to pass skills along to younger generations.
_____________________________________________________________________
Past presenters include Sitka carver Tommy Joseph and weaver Dorica Jackson. The next "Museum Midday" program is scheduled for January 11th and features carver Donald Varnell. The "Upholding Balance" exhibit is on display through March 2018.