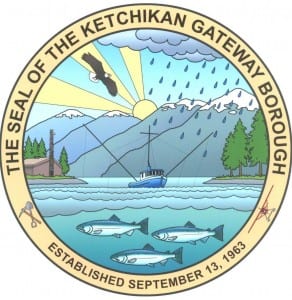 Three applicants with close ties to Ketchikan have made it to the final round to become the new Ketchikan Gateway Borough attorney, with interviews set for Friday.
Longtime Borough Attorney Scott Brandt-Erichsen is retiring.
The three finalists are Glenn Brown, who is a Ketchikan Gateway Borough School Board member; Ketchikan's District Attorney Ben Hofmeister; and U.S Coast Guard Judge Advocate Kristian Pickrell, who has served in Ketchikan, and is married to a Ketchikan local.
Brown's resume notes that his license to practice law in Alaska is active. He was a private-practice attorney in Pennsylvania before moving to Ketchikan in 2011. Since moving here, he has been the director of Ketchikan Youth Court, and worked as a bus driver for the school district. He also works for Alaska Airlines at Ketchikan International Airport.
Hofmeister has worked since 2002 as an assistant attorney general and prosecutor for the State of Alaska. He became Ketchikan's district attorney in fall of 2016 after working here as an assistant district attorney.
Pickrell first came to Ketchikan in the late 1990s to serve as a deck watch officer on the cutter Planetree. He served elsewhere in Alaska and the Lower 48 while also earning his law degree. He returned to Ketchikan in 2011 to lead the personnel support department before his current assignment as judge advocate.
The borough assembly will interview the three finalists during a special meeting Friday. That meeting starts at noon in borough assembly chambers. About an hour is designated for each applicant's interview.
Selection of a preferred candidate is expected to follow the interviews.