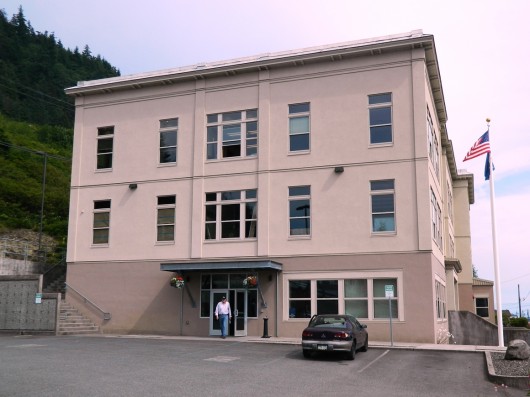 The Ketchikan Gateway Borough Assembly on Monday night approved the sale of 18 borough-owned lots in the Mountain Point Subdivision. Last summer, developer Harlan Heaton proposed to buy the lots for $10 each and not pay taxes for the first few years. That proposal was rejected by the assembly in December. Heaten came back to the assembly later that month with a new proposal. Though the purchase price remained the same, under the new agreement, Heaton would pay for re-platting, and provide an access easement.
Assembly member Judith McQuerry expressed concern because the agreement does not require Heaton to build a road on the easement.
"I'm just leery of going ahead and approving this without something in writing that says, 'Yes there's going to be a road through that easement. That easement is going to be the road.'"
Heaton addressed the assembly explaining his road plan. He says if he were to make any changes, he would likely have to come back to the assembly to approve changes. Heaton says he plans to use as much of the existing road as possible.
"So I don't have the ability to just willy-nilly go someplace that you don't approve. Or if I attempted to do that, I would have to go through the planning and zoning process, which you would have oversite also on."
Assembly member Rodney Dial spoke in support of the sale.
"If we don't approve this, this land could never be developed, or it could be another 30 years before it's developed. And quite frankly we're never going to get a perfect deal to develop a neighborhood. It's not going to happen."
The assembly voted 5-2 to approve the sale, with McQuerry and assembly member Stephen Bradford voting against.
Also Monday, the assembly honored Borough Attorney Scott Brandt-Erichsen who is retiring this month. Brandt-Erichsen attended, along with his wife and daughter. He addressed the audience, saying he plans to stay in Ketchikan.
"It's a great place to raise kids. There are lots of activities. It's a town that supports creativity and initiative. If someone has an idea for an event, they get a few of their friends, they say, 'Hey, we're going to do this.' And pretty soon you've had Gigglefeet (dance festival) for 20 years, you've had Robert Burns Night for 15 or 20 years. People start things and the community supports them and they grow. It's a place where you're able to do that and have an impact. It was a wonderful place to raise my family."
On Friday, School board member Glenn Brown was chosen to replace Brandt-Erichsen as Borough Attorney.
Also on Monday, the assembly postponed approval of an ordinance increasing the fine for not cleaning up animal waste on borough property, and allowing dogs to be off leash within Weiss Fields when not in use for other events. During a public hearing, Ketchikan resident George Tipton suggested a change in wording. As written, he noted dogs would need to be under "verbal control," but that young dogs or dogs in training might not yet respond to verbal commands. An amended ordinance will be presented at the next regular meeting.
The next regular meeting of the Ketchikan Gateway Borough Assembly is February 5th.