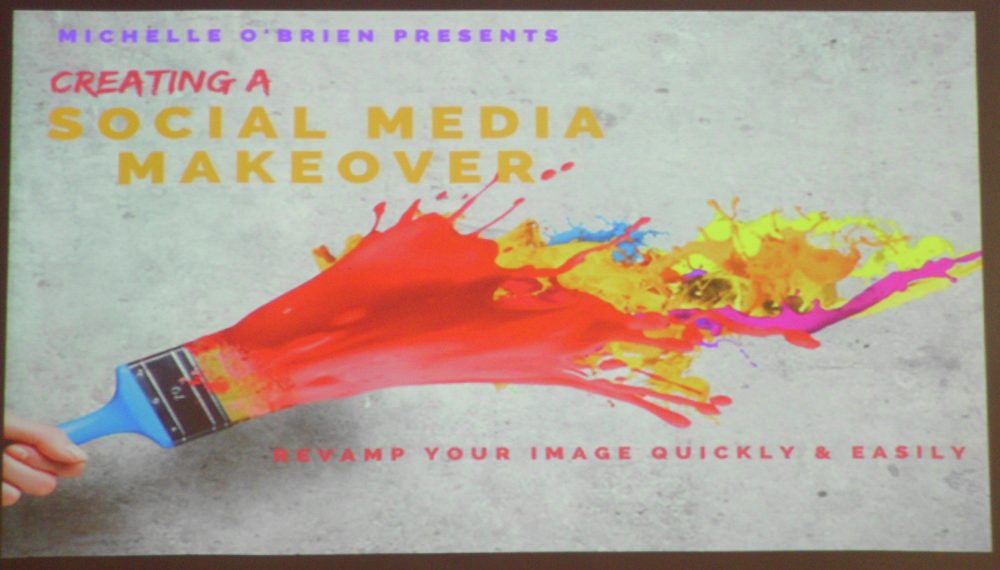 Creating a social media makeover was the topic at this week's Ketchikan Chamber of Commerce luncheon. Michelle O'Brien presented the second part of a three-part series looking at ways to get the most out of social media marketing.
Facebook is the number one social media platform in Ketchikan, according to Michelle O'Brien, who shared her marketing expertise for the chamber audience. Because of that, her focus was on maintaining a Facebook presence.
One business was chosen, and the group worked together to develop a marketing plan. O'Brien says plans will be different for each business.
"The goal of selling lots of TV, internet and cellphones is going to be very different than the goal of Community Connections, right?"
The business chosen was Starboard Frames and Gifts. O'Brien asked framer Brandon Hoyt to describe his business in less than two minutes.
"Mostly what I do is custom framing, but we also have the gallery. We feature a lot of local artists. About 90 percent of them are local to Ketchikan, so we try to push that as much as possible. But the big thing with us is the experience with customers – bringing them in, having them have an idea, and then putting it into life."
Hoyt says he'd like to see the business expand and offer other products. With that information, O'Brien discussed strategies. She says whether expanding, rebranding or marketing, every business should have a plan.
"Because if we have a plan, you're going to be able to put it into action very, very easily."
She also advises not to take too long when making decisions, so time can be devoted to running the business.
The group worked on developing a week-by-week plan for the month of May. O'Brien suggests looking at the calendar for holidays, such as Mother's Day, Cinco de Mayo and Memorial Day, as well as local events, and use these events as campaign targets. O'Brien says after that, you need to fill in the gaps.
"And what are you going to fill these with. Someone give me an idea. What would you fill these with? ('Education') Education. Maybe one of those 'how to' videos. You can borrow content from a lot of people."
She suggests planning seven days of social media marketing for targeted events, posting twice a day, not only to Facebook, but Twitter, Instagram and other platforms. O'Brien recommends using a free or low-cost social media scheduling tool for efficiency. She mentioned one site, hootsuite.com.
"But they have a groovy calendar. All you need to do is click on the date, choose your time, have your text, slide in a picture. You're done. And you can literally see every single day of the month. And guess what? At the end of the month, you can get your results. Who did you reach? How effective were you?"
O'Brien suggests using other media as well, such as print and radio advertisement. She says whatever platforms are used, all campaigns should have consistent messaging.
____________________________________________________________
Here is a link to the social media scheduling tool mentioned: https://hootsuite.com/plans
Here is a link to the first story in the series on social media marketing: https://www.krbd.org/2018/03/14/advice-on-how-to-get-the-most-out-of-social-media-marketing/