The grassroots group Let's Sign Ketchikan, which promotes American Sign Language education and understanding of the deaf community, has received grant funding to place placards in businesses where communication by American Sign Language, or ASL, is available.
Margaret Cloud is with that group. She said she got the idea after hearing that Holland America-Princess Tours was accepting grant applications.
"So the signage program is to help both visitors and locals know about businesses who have an employee, on duty, who can do ASL," she said. "And it will just make it easier for people going into those businesses to conduct their business."
Because Let's Sign Ketchikan is not a 501(c)3 nonprofit, the project is under the umbrella of Grow Ketchikan. Cloud said the $750 dollar grant will be used to purchase 20 signs and ASL dictionaries to be distributed to participating businesses.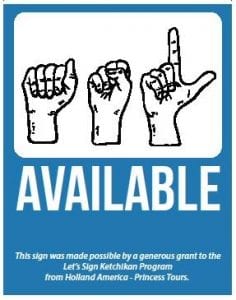 "And the signs are going to be in two different colors, a light blue and a red, so businesses can choose which one they want in the window," she said. "Across the top of the sign it'll be finger spelling A-S-L. Underneath, in large letters, is the word 'available.'"
Cloud said the placards will let non-verbal people know they have another option when conducting business. She knows of several businesses that have employees that can sign. An employee at Ketchikan Public Utilities learned specific signs to help people pay bills.
"And she reported this really wonderful encounter with somebody who happens to be deaf who came in and has always felt a bit frustrated, apparently," Cloud said. "When this man realized she could sign some…just a huge smile on his face. So it made paying of his bill a little less painful."
Cloud said businesses don't have to have fluent ASL signers to receive a placard.
"You just have to feel like you can handle it," she said. "And if a person can finger spell and they want a sign in their window and they can finger spell…super. There is no minimum requirement. This is a community program. We are not training people to be ASL interpreters, we're just bringing ASL to the community."
Business owners interested in acquiring an "ASL Available" sign can contact Cloud at 617-9806. More information on the signage program and ASL classes are on the Facebook group. "Let's Sign Ketchikan."