Among groups of tourists milling about and cruise ships towering over the kiosks in downtown Ketchikan, about 20 protesters showed up ready to march holding makeshift signs, some of them made the same day, like Halli Kenoyer's sign.
"I made these signs right after a doctor appointment, right when I came into town. I'm passionate about this, and I care deeply that we treat immigrants with respect," Kenoyer said.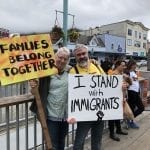 Locals like Kenoyer have been watching the news and are angry about the inaction they see by lawmakers concerning the situation of how immigrant families are being separated from their children when trying to seek asylum in the United States. So, Jessica Wallin organized this protest in less than 48 hours to send a simple message.
"I think that Congress needs to step up. Senator Murkowski has condemned everything that's happening, but she hasn't as far as I've seen said 'I'm going to do this.' I haven't seen a direct response from her, which is why I wanted to march to her office today," Wallin said.
These people want Senator Lisa Murkowski to support a specific bill in the U.S. Senate called the "Keep Families Together Act" that would prohibit federal officials from taking an immigrant child from their family. It was introduced by Democrats and currently has no bipartisan support.
President Donald Trump also recently signed an executive order that would keep immigrant children and families together going forward. But Rachel
Breithaupt is skeptical at how much real good it will do.
The people marching along the boardwalks have the same cause. They want immigrant families kept together. But their reasons for marching vary. Tom Newfeldt just thinks it's the right thing to do.
"I'm here to make a statement that things are not ok. People shouldn't be treated in a vile manner. There needs to be justice. America needs to be free again," Newfeldt said.
For Erin Riddle, her inspiration comes from the fact she is a mother herself and knows how strong a mother's bond can be with her children.
"And so what I am really concerned about as a human being but also a mother, is how are these parents going to find their kids? It's unimaginable. It's unimaginable that it's 2018 and we don't know how we're going to get kids back to their parents," Riddle said.
When the protesters arrived at Senator Murkowski's office, there was no one to meet. No staffer would be there until next Monday.
As a disclosure, Halli Kenoyer is a volunteer for one of KRBD's music shows.