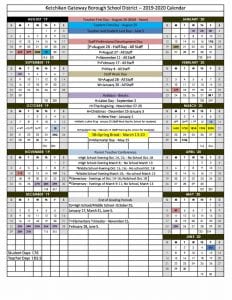 Proposed Ketchikan School District calendars for the next two years are out for public comment, but as of Wednesday, no one from the general public has provided input.
District Human Resources Director Rick Rafter told the Ketchikan School Board on Wednesday that the proposed calendars for the 2019-2020 school year and 2020-2021 school year are online and have been for a couple of weeks.
I've had no comments yet. It's on the website," he said. "It's the very first thing with my email address, so anybody has any comments they're welcome to send them."
Board President Matt Eisenhower asked what the schedule was for the calendar. Rafter says it's set for adoption on Feb. 13th.
"Our next meeting," Eisenhower said. "So folks have two weeks."
The calendar for next year shows school starting for students on Aug. 29th, and ending on June 5th. For 2020-21, the first day would be Aug. 27th, and the last would be June 4th.
Thanksgiving break for both years includes the day before Thanksgiving.
Both proposed calendars and how to comment are on the home page of the Ketchikan School District website: https://www.kgbsd.org//Domain/80
Last year at this time, adoption of the school calendar was somewhat controversial. Some parents complained that the proposed calendar in front of the board then hadn't provided adequate opportunity for public input. The board ended up postponing adoption of the calendar and opening up a public comment period.