A motion to pay former Superintendent Robert Boyle about $53,000 as part of a "separation agreement" is in front of the Ketchikan School Board on Wednesday.
Boyle resigned late last year after a problematic 12 months for the school district. That year included drawn-out and contentious teacher-contract negotiations, and an independent investigation into the district's actions related to former Ketchikan High School teacher Doug Edwards, who recently pled guilty to sexual abuse of a minor.
The independent investigation concluded last fall, and Boyle resigned soon after a full report was delivered to the school board.
Board President Matt Eisenhower said the negotiated payout is not unusual.
"It was both of ours agreement that it was better for him to do a quick departure, so that we could move on and make the changes that we were seeking for the district," Eisenhower said. "Within that separation agreement, which is pretty typical, you look at a particular period of time in which you compensate the employee as they're transitioning out of the district."
Since the independent investigation concluded, the board and interim Superintendent Beth Lougee are continuing an internal investigation, including a close look at policies and training practices.
In her report to the board, Lougee writes that the policy committee reviewed a board policy and an accompanying administrative regulation that focus on child abuse and neglect. The board on Wednesday will consider proposed changes to those policies.
The revisions would include changing the word "may" to "should" for employees and volunteers to report known or suspected child abuse or neglect. The revisions also add a section requiring annual training for principals.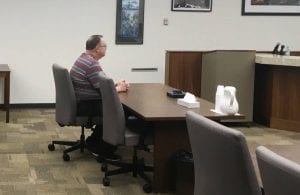 Eisenhower said the committee and Lougee will continue to review policies and see where any breakdowns may have occurred in the past. For example: There have been questions from the public about why Edwards was allowed to chaperone a school team traveling for competition after complaints about him had been filed.
"That definitely falls in the bucket of what we were doing as further investigation to look for professional judgment as related to issues outside of policy," Eisenhower said. "And so that is something that Ms. Lougee has investigated and has looked into and is taking appropriate disciplinary action."
Ketchikan High School Principal Bob Marshall has resigned effective at the end of this school year. In her report to the board, Lougee writes that the application process for that position will run through March 4th, with interviews taking place by the end of March into early April.
Wednesday's school board meeting starts at 6 p.m. in borough assembly chambers at the White Cliff building. Public comment will be heard at the start of the meeting.