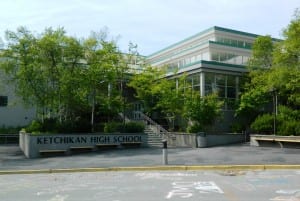 The Ketchikan School District could see a funding cut of up to $7 million if Gov. Mike Dunleavy's proposed state budget is accepted by the Legislature.
Dunleavy has proposed an approximately 25 percent cut to state funding for public education, along with many other cuts, in order to balance the state budget without adding taxes or using any Permanent Fund earnings.
Ketchikan School Board President Matt Eisenhower told the board during its regular meeting Wednesday that Ketchikan's school system gets most of its funding from the state – about $25 million. He said 25-percent of that is $6 million to $7 million.
"That's probably 50 to 70 positions in our district," he said. "There's no way that we could make those changes without a steep reduction in staffing."
Eisenhower said he doesn't want to alarm anyone, but he does want people to understand the effect of such a cut. He said the community needs to have a conversation about moving forward.
"If this is what we want then we'll do that. But I want to be very fair as to what that means to us," he said. "We'll dig deeper into those numbers, especially as we begin to prepare for next year's budget. But it's pretty easy to see that type of change to our budget would be a significant change. It's not something we wouldn't work our way through. We're professionals and we'd get the job done, but I don't want people to think that this is just a small tweak."
Eisenhower encouraged community members to contact area representatives in the Legislature to express opinions.
Also Wednesday, the board approved a mid-year budget revision. The revision reflects additional costs for salaries and health insurance, related to the new teacher contract. It also reflects additional state funding due to more intensive-needs special education students than previously estimated.
The approved transfer of funds totals about $2.3 million.
In other matters, the school board approved a motion to pay former Superintendent Robert Boyle about $53,000 as part of a separation agreement. Boyle resigned late last year.
Board Member Sonya Skan voted against the payment to Boyle.