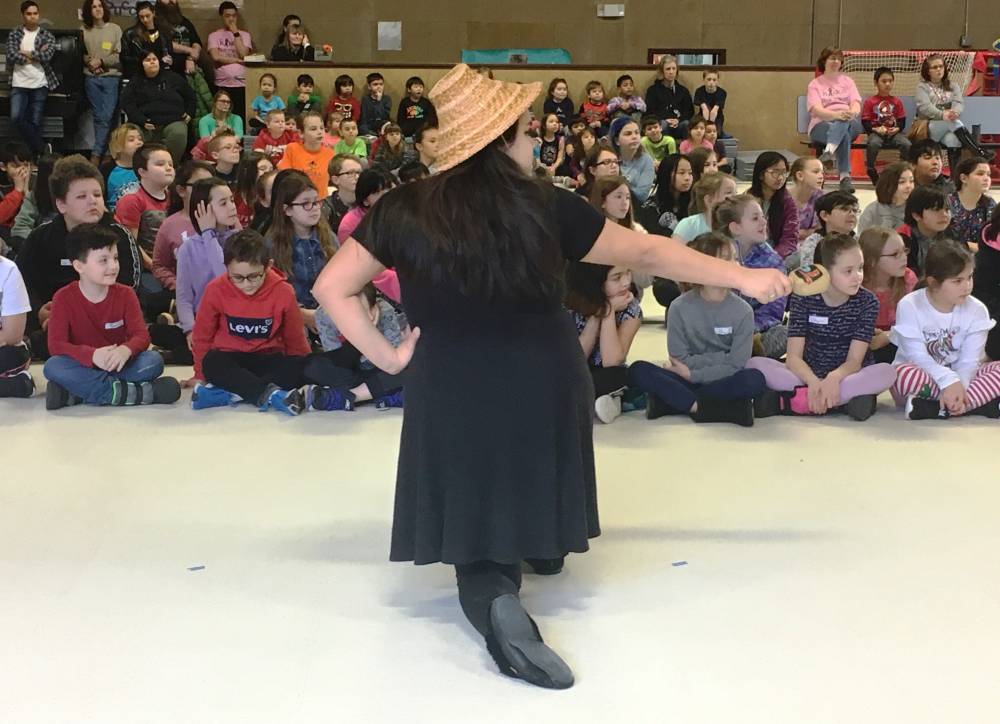 Elementary students at Ketchikan Charter School celebrated Elizabeth Peratrovich Day a day early on Friday. The New Path Dancers performed, and presidents of both Alaska Native Brotherhood and Alaska Native Sisterhood Grand Camps spoke to the crowd of kids in the school's gymnasium.
It's been 75 years since Alaska Native civil rights leader Elizabeth Peratrovich stood in front of the Territorial Legislature and eloquently made the case for the 1945 Anti-Discrimination Act.
Alaskans honor her memory every year. At Ketchikan Charter School, the celebration started with dancing and songs.
Kevin Clevenger is the New Path Dancers leader. He directed the group of mostly young dancers through about a half-dozen songs. One was about the trickster raven, who Clevenger says likes to steal bright shiny objects.
As the raven dancers wove through the gym, they stole cell phones, glasses, coffee mugs and more from audience members. Clevenger told the audience he warned them.
"So now you guys know raven is a trickster. Raven loves shiny things," he said, before inviting audience members to come up and collect their stuff.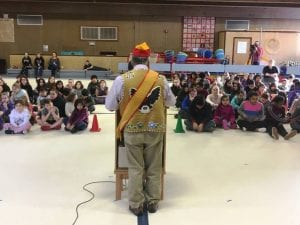 The dance group sang its way out of the gym, and then Alaska Native Brotherhood Grand Camp President Joe Williams of Saxman spoke, introducing himself in Tlingit.
Williams told the students that Alaska Native Brotherhood was organized in 1912 to represent the needs of Alaska Native people. In 1915, he says, Alaska Native Sisterhood was formed.
Elizabeth Peratrovich and her husband, Roy, both were presidents of those groups when they worked toward passage of the Anti-Discrimination Act.
ANS Grand Camp President Paulette Moreno of Sitka traveled to Ketchikan to help celebrate Elizabeth Peratrovich Day. She talked about the young Elizabeth Peratrovich, growing up in Southeast Alaska.
"Some of the things that she did are some of the things that you probably do," Moreno said. "She gathered food, she went out fishing. She did a lot of things that provided for her family with her grandmother and her parents."
Moreno told the students that Elizabeth Peratrovich experienced discrimination as a young girl, because of her Alaska Native heritage. Moreno says that early experience, and continued discrimination as they grew up, inspired her and Roy.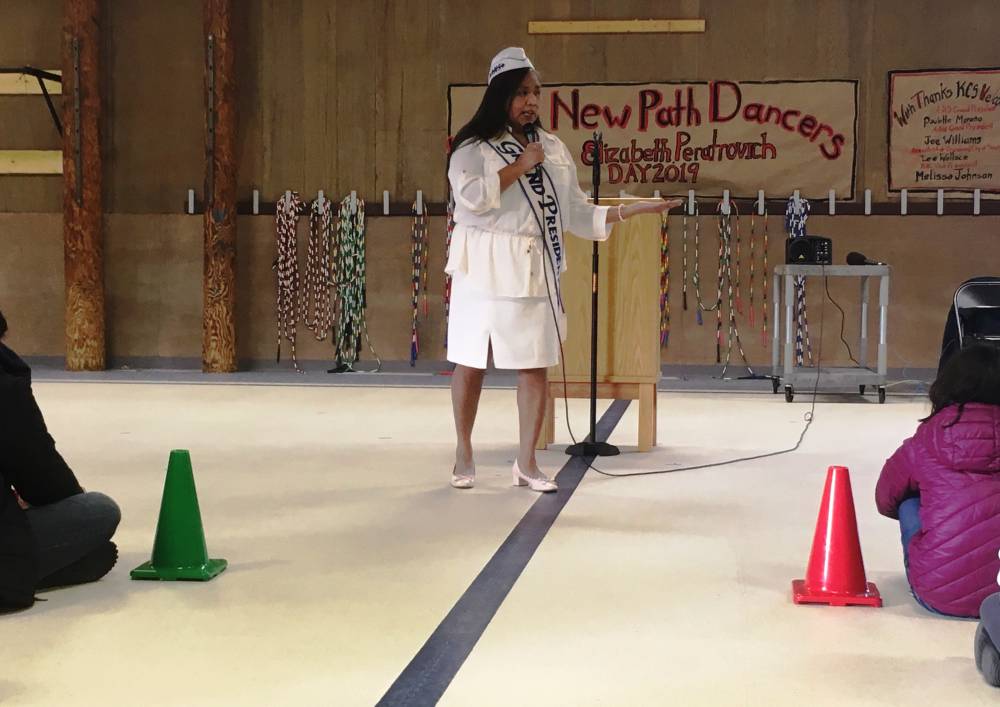 "They fought back," Moreno said. "Not with fighting with their muscles, but with their minds and their organization and with the power that they had."
Moreno said that the two worked to get the Territorial Legislature to consider the Anti-Discrimination Act, and then they both spoke when it came time for a vote. Roy spoke first, she said, and then Elizabeth.
"She spoke and it was very, very powerful and she influenced greatly the passage of that bill," Moreno said.
Alaska's Anti-Discrimination Act was groundbreaking for that time, and was approved about 20 years before the national Civil Rights Act.
The territorial law guaranteed equal accommodations in hotels, restaurants and other establishments. Before that, businesses could – and did – refuse service to people based on their heritage.
Elizabeth Peratrovich Day is celebrated in Alaska on Feb. 16th, the anniversary of the day the Anti-Discrimination Act was signed into law.